OUTober 2020
Oct 7: Faith, Family and Sexuality with Barbara Anne Kozee 7pm
Location: tinyurl.com/faithfamilyandsexuality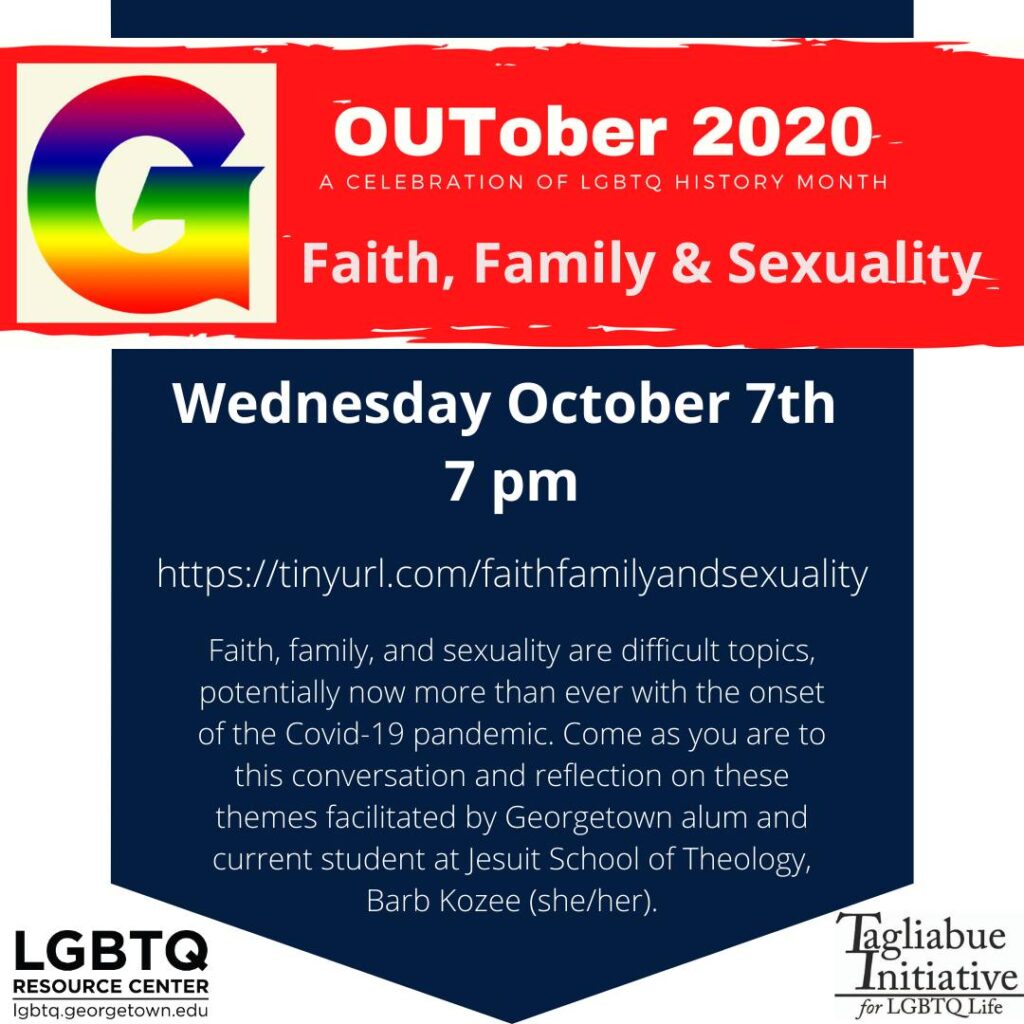 Oct 15: Beyond the Pink Triangle: Queer Life in Nazi Germany 4pm
Oct 20: To Dwell in Possibilities: Being and Becoming LGBTQ Families 3pm
Location: https://tinyurl.com/LGBTQFamiliesOutober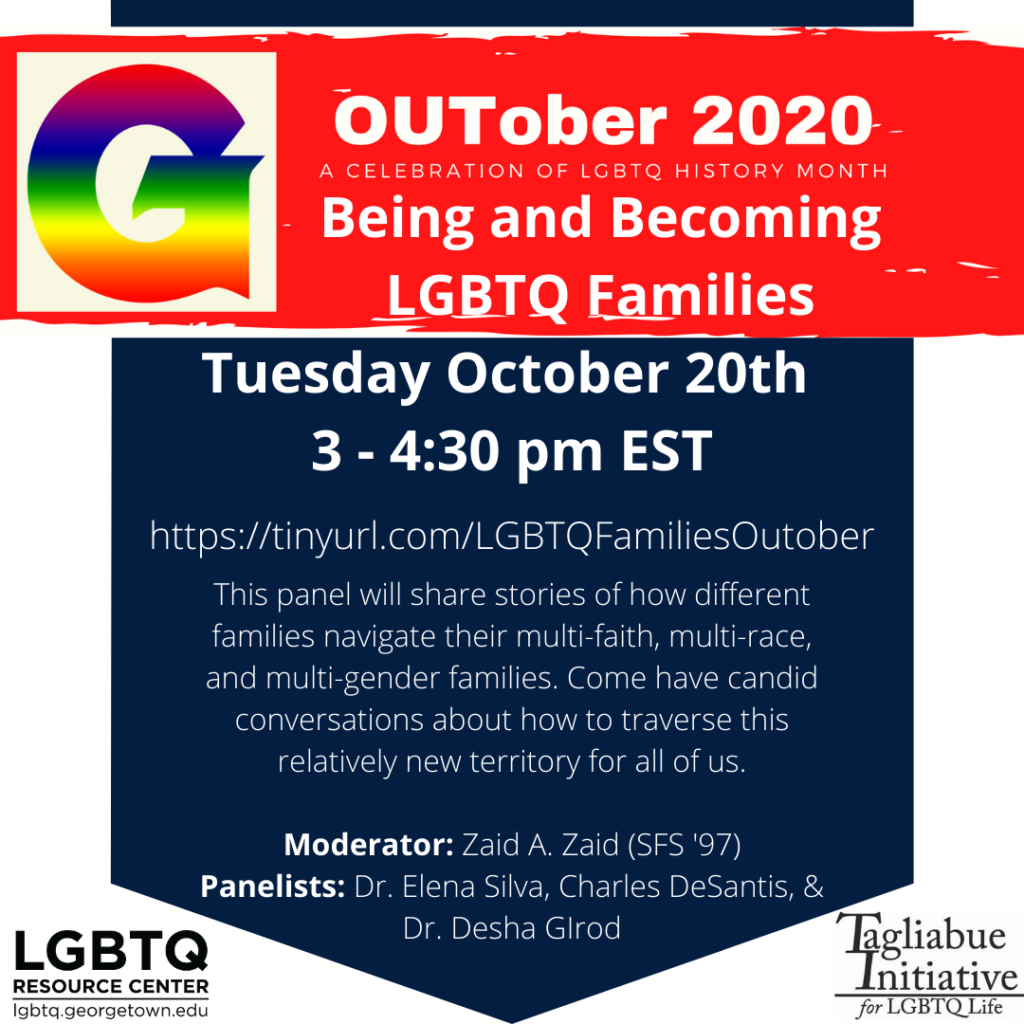 LGBTQ communities developed the idea of "chosen family," since for many of us, our families of origin were not accepting. It is a significant shift in our cultural moment, that so many of us now choose to have families of our own, and have the ability to be families of origin. This panel will share stories of how different families navigate their multi-faith, multi-race, and multi-gender families. Come have candid conversations about how to traverse this relatively new territory for all of us.
Participants: Zaid A. Zaid Esq (SFS '97; Strategic Response Policy Team, Facebook); Prof. Elena Silva (Vice Dean of Faculty and Diversity and Inclusion, Senior Associate Dean); Prof. Desha Girod (Associate Professor, Government Department); Charles DeSantis (Interim Vice President for Chief Human Resources Officer)
Oct 21: International Pronouns Day

International Pronouns Day seeks to make asking, sharing, and respecting personal pronouns commonplace. Referring to people by the pronouns they determine for themselves is basic to human dignity. Being referred to by the wrong pronouns particularly affects transgender and gender nonconforming people. Together, we can transform society to celebrate people's multiple, intersecting identities.
Check out https://pronounsday.org/ for FAQs, resources, and information on how to participate in International Pronouns Day.
Oct 23: Pride Shabbat Services 5pm
Location: tinyurl.com/PrideShabbatOUTober
Though every Shabbat is pride Shabbat in the sense that LGBTQ+ folx have long been integral members and leaders in Jewish life, this Shabbat, in observance of OUTober, this Shabbat service will feature Queer Jewish readings and a sermon celebrating LGBTQ+ Jewish identity and spirituality. We will integrate these powerful and important elements into the standard Shabbat service that we host every week – so all your Jewish prayer needs will be met!
All are welcome, regardless of background, so please, do join us!
Oct 24: Mass of Belonging 7pm
Location: TBA
Catholic Ministry invites you to join us in worship at a special Mass of Welcome for LGBTQ students and allies.
Oct 27: "The Great Work Begins:" Angels in America 5pm EST
This special program of performance and discussion will combine scenes performed by leading professional actors from Tony Kushner's Pulitzer Prize-winning two-part epic play Angels in America: A Gay Fantasia on National Themes with insights from experts from the medical, political, and artistic communities on the legacy and continued resonance of the play's portrayal of the AIDS Epidemic in the context of the current moment, with a talk back.
Co-sponsored by The Laboratory for Global Performance and Politics, the Medical Humanities Initiative, Georgetown Humanities Initiative, LGBTQ Center, Georgetown University School of Medicine, Department of Performing Arts
Nov 8: Queer Arati with Brahmachari Sharan 5pm
Dharmic Life celebrates OUTober on campus, and its own long tradition of inclusivity and celebration of sexual and gender diversities. We will be joined by members of the LGBTQ Center for a special Arati.
Presented By:
LGBTQ Resource Center
Tagliabue Initiative for LGBTQ Life
GU Pride
GU Queer People of Color (QPOC)
In Partnership With:
Division of Student Affairs
Office of the President
Office of the Provost
Office of Campus Ministry
Department of Performing Arts
Medical Humanities
The Humanities Initiative