Tagliabue Research Award
In Support of Gender and Sexuality Research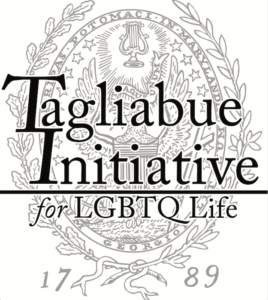 The LGBTQ Center is pleased to partner with the Office of the Provost to offer the Tagliabue Research Award in support of LGBTQ, and sexuality/gender research for the academic year 2017-2018.
Mission: The Tagliabue Endowment for LGBTQ Life was established in the Fall of 2012 under the direction of the LGBTQ Center located within the Division of Student Affairs. The endowment set up by Chan & Paul Tagliabue (current Vice-Chair, former Chair, Board of Directors, Georgetown University) is to ensure sustained support and growth for the initiatives of the LGBTQ Center. Part of the vision for this endowment is to enhance and to deepen our understanding and knowledge of LGBTQ issues and histories, and to provide linkages between student experiences and academic life.
We are excited to announce the third year of the research award. We request proposals from faculty, graduate students, and postdocs who are working on LGBTQ, queer, and gender and sexuality related questions in any discipline to apply for this award. There is ONE award in the amount of $2,000 each academic year. Those receiving the award will be asked to work with the LGBTQ Center to present on the project at the end of the year; and also attend a spring ceremony along with others as part of the Tagliabue Initiative celebration.
Application Requriements
Eligibility: All tenured, tenure-track and full-time non-tenure line faculty with multi-year contracts are eligible. All full-time graduate students enrolled at Georgetown are eligible, as well as full time post-doctoral scholars. Graduate students and post-docs must also submit a one-page sponsor letter from their primary mentor.
Award Committee: A committee of faculty will meet to consider applications. Accordingly, all are asked to make their proposals accessible to non-specialists by avoiding the use of technical language and clearly articulating the importance of their work.
Purposes: Acceptable use of funds include payment for research materials, support for travel connected with the performance of research, costs for research assistance, and subventions for scholarly manuscripts, if the subvention is a condition for publication and a letter from the publisher is provided. As the research needs of the faculty are various, other research related requests for support will also be considered. Due to resource limitations requests for conference travel cannot be considered.
Application Materials: The following will comprise the proposal application: the proposal, CV, and budget each should be sent in PDF format.
A proposal of no more than 1,000 words, not including references cited, in a 12-point legible font, 1-inch margins all around, paginated and outlining in specific and succinct detail the purposes to which the award will be put, e.g., requests for funding a research assistant should indicate the kinds of tasks to be performed. The proposal also should describe briefly how the award will contribute to the applicant's proposed research and how the completion of this work will contribute to the applicant's development as a scholar. (2-page maximum);
Curriculum Vitae in a 12-point legible font, 1-inch margins all around, outline form and ordered as follows: (1) education; (2) history of employment; (3) academic honors received; (4) bibliography of applicant's publications or exhibitions; and (5) the source, time, and nature of any fellowships or grants received during the past five years. (3-page maximum);
A budget indicating the level of support requested: if support for more than one activity is desired, indicate how much money would be spent on each; if the award will cover only a portion of the research expenses, the applicant should indicate how the remaining portion would be covered. Applicants also should identify an appropriate cost center, or work with their program offices to determine one, into which funds for approved applications may be transferred. (1-page maximum). Please be sure there is some justification for expenses included in your budget.
Failure to follow the required formatting and/or word and page limits will render the application ineligible for review.
Once the competition results are announced, the LGBTQ Center will process and confirm the transfer of funds via email with the faculty member and departmental administrative officer.
Application Process
Please submit all application materials via email to Sivagami Subbaraman: sivagami.subbaramanATgeorgetown.edu.
Please use the following naming conventions for the Application materials: Last Name proposal.pdf; Last Name cv.pdf; Last name budget.pdf
Graduate students and Postdocs: please submit a one-page letter from your mentor.
Questions regarding the Tagliabue Research Award should be directed to Sivagami Subbaraman, Special Assistant to the VPSA & Director, LGBTQ Resource Center: sivagami.subbaramanATgeorgetown.edu.
Visit the Internal Georgetown Funding for more information regarding the Tagliabue Research Award and other rewards.
2017-2018 Recipient: Mahdi Zaidan

The LGBTQ Resource Center is excited to announce the recipient of 2017-2018 Tagliabue Research Award, Mahdi Zaidan, for his proposal:
Beirut Pride and Queer Squats
Project
My current research interests stem from my previous life as a caseworker for Helem, an NGO that supports Arabic-speaking LGBT refugees living in Beirut. For over two years, I spent a great deal of time assisting individuals to navigate overwhelming legal obstacles and conditions socioeconomic precarity. And so it was with a wish to understand these dynamics better that I began my master's thesis project on queer asylum in Lebanon and Greece.
Throughout the summer of 2017, I carried out 2-months of fieldwork with queer refugees in Athens and Beirut. I collected refugee life histories, conducted wide-ranging semi-structured interviews, and engaged in hours of participant-observation with both activists and refugees.
The research targets three main thematic areas. First, it looks at the development of LGBT-identity in the Middle East, asking what are the dynamics through which queer Arabs come to identify as a sexual minority. To tell this story, I gathered oral histories of queer communities in Syria, Iraq and Lebanon. Second, the project seeks to understand how LGBT rights and precarity among refugees intersects with broader dynamics of class, wage-labor and sexual identity. Finally, the project explores two different visions of humanitarianism by comparing Beirut's NGO-led response to Athen's horizontalist and non-hierarchical organizations. This component ties the research together by comparing how different forms of intervention mediate refugee-experiences of sexual identity and economic precarity.
Biography
Mahdi is a second year Masters in Arab Studies Student concentrating on Women and Gender. He graduated in 2016 with a BS in Economics and a minor in Sociology with High Distinction from the Lebanese American University. In 2015 he began working as a case worker with Helem, an organization working on the legal protection of the LGBT community in Beirut. Mahdi was also a student organizer at the LAU. He's also, worked on HIV-prevention among young gay men. In his free time Mahdi enjoys going out to dance, eating Kibeh Neye, and making memes for friends.
Inaugural 2015-2016 Recipient: Julia Watts Belser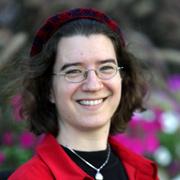 The LGBTQ Resource Center is excited to announce the recipient of the Inaugural Tagliabue Faculty Research Award, Prof. Julia Watts Belser, for her proposal:
Queer Disability Justice: The Ethics and Artistry of Intersectional Body Politics
Project
Building upon a conviction that religious ethicists must attend to the lived practices of grassroots activists on the front lines of justice work, my research attends to the embodied practices of LGBTQ disability justice activists—and lifts up these voices as a central foundation for Jewish feminist disability ethics. Disability justice is a broad-based social movement that centers the leadership, activism, and justice priorities of queer disabled people of color, underscoring the political connections between race, poverty, sexuality, gender, and ability. Within disability justice circles, the arts have emerged as a particularly potent avenue for cultural change. Disability justice artists frequently create collaborative visual, literary, and performance art that accentuates both queerness and disability, in order renegotiate the means by which non-normative and dissident bodies claim a public voice. Artists commonly use queer sexuality and aesthetics to accentuate and subvert the violence faced by those whose bodies are marked as gender-variant, racialized, and/or disabled, while also challenging the prevailing grammars of sentimentality and normalization that govern dominant portrayals of disability.
The Tagliabue Faculty Research Award will allow me to examine the pathbreaking work of Cachín Cachán Cachunga! (CCC), a Scottish arts company dedicated to creating high-quality artistic works by and about trans, intersex and queer people, with a particular focus on cultivating the leadership and artistic engagement of minority, ethnic, and racialized artists with disabilities—especially those who identify as refugees, migrants, and working poor. In addition to making disability access a central and constitutive part of their artistic performance, CCC events also tend more broadly to the needs of bodies—from free haircuts, to safer sex supplies, to complementary health care and mental health services. While such practices are rarely framed in terms of access, nor conceptualized as an expression of disability politics, I argue that a disability justice ethics of access rightly recognizes such material practices of bodily care to be intertwined with physical and sensory accessibility. By framing access to clean water and healthy food, access to improved sexual safety and health care, as well as access to barrier-free space and communicative competence as simultaneously necessary modes of accessibility, disability justice organizers refuse to sever disability itself from the concrete, material conditions of queer disabled people's lives.
For more information Queer Disability Justice.pdf
Biography
Julia Watts Belser is an Assistant Professor of Jewish Studies in the Theology Department at Georgetown University. She studies rabbinic Jewish culture in late antiquity, with expertise in disability studies, gender and sexuality studies, queer theory, and ecology. She is committed both to a critical historical analysis of disability in classical Jewish texts, and to bringing contemporary disability justice activism into conversation with Jewish tradition. An ordained rabbi, Belser writes and teaches Jewish feminist ethics, with a particular focus on disability justice, LGBTQ issues, and environmental thought.
Belser is the author of Rabbinic Responses to Drought and Disaster: Power, Ethics, and Ecology in Jewish Late Antiquity (Cambridge University Press, 2015). In 2007, she co-authored A Health Handbook for Women with Disabilities with the Hesperian Foundation, a grassroots public health handbook developed through extensive collaboration with disabled women in 42 countries, now translated into 11 languages. Her work has appeared in The Journal of the American Academy of Religion, The AJS Review, Hypatia: A Journal of Feminist Philosophy, and The Journal of Feminist Studies in Religion, as well as a variety of popular venues: Tikkun Magazine, Midstream: A Journal of Jewish Thought, and Fireweed: A Feminist Quarterly. She serves on the board of the Society for Jewish Ethics and holds leadership positions in the American Academy of Religion. She is also a board member of Nehirim, a national community of lesbian, gay, bisexual, and transgender Jews and allies.
Before joining the Theology Department at Georgetown, Belser held a research fellowship in Women's Studies and Religion at Harvard Divinity School and taught in the Religious Studies Department at Missouri State University. She received her Ph.D. in Jewish Studies from UC Berkeley and the Graduate Theological Union, as well as rabbinic ordination from the Academy of Jewish Religion California.
---