Lavender Graduation 2012
Monday, April 30, 2012
5:00-8:00pm, Copley Formal
Lavender Graduation is a time for family members, students, staff, faculty, and alumni to celebrate the achievements, contributions, and experiences of our graduating LGBTQ and Ally students.
2012 KEYNOTE SPEAKER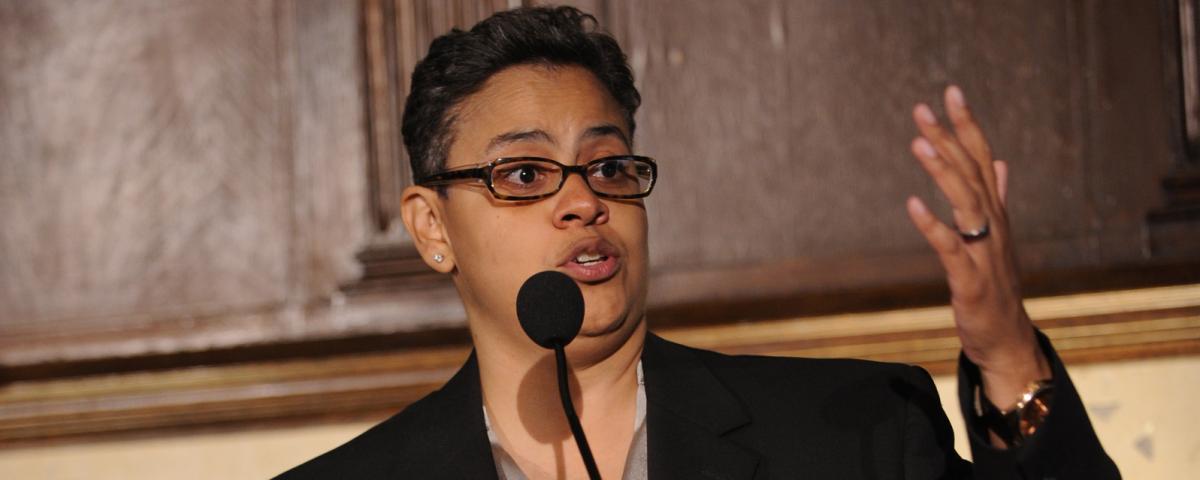 Melissa L. Bradley (MSB'89) is the Chief Executive Officer of Tides, a family of nonprofit organizations that supports grantees and programs for critical nonprofit infrastructure and social service delivery. Dedicated to socially-conscious and civic-minded enterprise, Melissa previously served as founder and managing director of New Capitalist, an organization that leverages human, financial and social capital to create economically profitable and sustainable individual, businesses, and communities. Her other strategic and advisory work has included the Center for American Progress, the W.K. Kellogg Foundation on Family Economic Security and Civic Engagement, and Green For All.
Committed to strengthening communities, Melissa founded Reentry Strategies Institute – the only national criminal justice intermediary explicitly focused on reentry into society. Selected as a Soros Justice Fellow, she investigated the feasibility and viability of creating entrepreneurial ventures for formerly incarcerated persons and encouraged investments from the business community. She is also founder of The Entrepreneurial Development Institute (TEDI), an international NGO whose mission is to serve as a catalyst for permanent social change, economic development and community empowerment among young people and their families. Selected as an "Outstanding National Youth Entrepreneurship Program" by the Kauffman Foundation, TEDI is based in Washington, DC with 16 satellite offices throughout the United States and three international locations.
Though her work has taken her around the world, Melissa remains dedicated to the Hilltop. Melissa is a Senator on the Georgetown University Board of Governors and has served the body in varying capacities for over 10 years. She was a contributing member of the LGBTQ Working Group and received the Reed Alumni Service Award in 2000.
Melissa graduated from Georgetown University in 1989 with a Bachelor of Science degree in Finance from the School of Business, and obtained a Master's in Business Administration in Marketing from American University in 1993.
2012 LAVENDER GRADUATION PROGRAM
Invocation
Fr. Howard J. Gray, S.J.
Special Assistant to the President
Welcome
Todd Olson Ph.D.
Vice President, Division of Student Affairs
President's Remarks
John J. DeGioia Ph.D., Col '79, Grad '95
President, Georgetown University
Introduction of Keynote Speaker
Julia Farr Connolly, Col '88
President, Georgetown University Alumni Association
Keynote Speaker
Melissa L. Bradley, MSB '89
Chief Executive Officer, Tides Network
A Reflection on Our Time at Georgetown
Adam S. Talbot, Col '12
Building Our Legacy
Matthew LeBlanc
Program Coordinator, LGBTQ Resource Center
Presentation of Awards
Snikki Grant, Gavin Kane, Vail Kohnert-Yount, Maxwell Wallace
Mitchell Bailin, Associate VP & Dean of Students, Law Center
Recognition of Graduates
Graduation Remarks
Sivagami Subbaraman
Director, LGBTQ Resource Center
Dinner and Reception
2012 CELEBRATION PARTNERS
Office of the President
Office of the Provost
Georgetown University Law Center
McDonough School of Business
Office of Mission & Ministry
Office of Faculty & Staff Benefits
Division of Student Affairs
2012 AWARD RECIPIENTS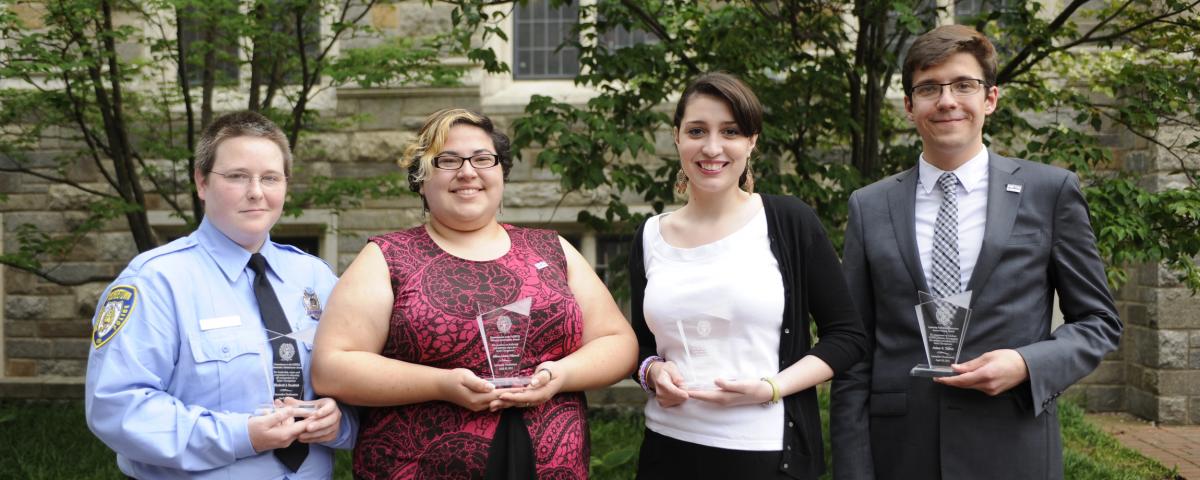 COMMITMENT TO THE LGBTQ CAMPUS COMMUNITY


Presented to: Allie Villareal
From her extensive involvement in countless panels, productions, and on-campus programs, Allie has upheld her leadership and her commitment to the LGBT community in every activity she pursues. Her extensive involvement in Dear Harvey, I AM, Still Me, and countless other campus programs, are testaments to her immense dedication. She is known among her peers and colleagues to be outspoken, generous, and full of heart. Throughout numerous productions at Georgetown, including her senior thesis, The Big Life, Allie has undertaken great courage in putting her life and her beliefs on view for the world.
LGBTQ LEADERSHIP BEYOND THE GATES


Presented to: Tanisha Humphrey
Tanisha is known for making connections outside of Georgetown University by providing advice and mentorship to fellow students seeking opportunities to serve the greater LGBTQ community and by challenging others to engage in dialogue around the intersections of sexual orientation, race, and gender. As an active and vocal advocate for social justice on and off-campus, she has been recognized for her work for GU's Center for Social Justice, and the Women Advancing Gender Equity Fellowship. As an intern with the Gay and Lesbian Victory fund here in DC she works diligently to increasing the voice of LGBT people in U.S. politics by getting more out officials elected at all levels of government.
LGBTQ BRIDGE BUILDER


Presented to: Adam Talbot
Adam has used his leadership positions to work with other campus groups and fight for LGBT students at Georgetown. During his sophomore year the campus was rocked with several bias related incidents. He helped organize a candle light vigil with representatives from campus ministry, several student groups, administrators and public safety officials. He used this to increase the visibility of DPS officers and advertise the BRI reporting system. In addition, as a two-term Speaker of GUSA he has fought hard to bring in the LGBT perspective to important issues. These efforts on GUSA are epitomized by his push for LGBTQ-friendly and mixed-gender housing options. His efforts have extended beyond campus, with an internship at the Human rights campaign and continued work with the Chair of the Democratic National Committee, Donna Brazile.
OUTSTANDING ALLY TO THE LGBTQ COMMUNITY


Presented to: Anne Musica
Anne has been an active voice for equality throughout her time at Georgetown. She is a passionate feminist and advocate for reproductive justice and against sexual violence. She has been a leader for programs like RU Ready, Take Back the Night, and GU Men of Strength, and her effort to expand such programs to be gender- and queer-inclusive has contributed greatly to their success. She is also a part of the Justice and Diversity in Action Living and Learning Community, is active at the Women's Center, and produced this year's performances of the Vagina Monologues. Beyond her many campus leadership activities, she is also an advocate, supporter, and dear friend to so many LGBTQ and ally students at Georgetown.
FACULTY/STAFF COMMITMENT TO THE LGBTQ COMMUNITY


Presented to: Elizabeth Feindrich
This award recognizes a staff member's excellence in leadership and inspiring others for a better Georgetown. The recipient of this year's award has dedicated her support and continually advocates for LGBTQA individuals and initiatives on campus. She contributes to educating the campus community around LGBTQA issues and to create seamless learning environments. Her nominator said "she is always looking out for students, and always available to provide reassuring presence at any student meeting or event. All students know and trust her." Another nominator said "she consistently reaches out to the LGBTQ students on campus, attending our events, forming personal relationships with students, and creating a comfortable connection between Pride, the Center, students and the Department of Public Safety. Much of this has been done on her personal time and I truly feel safer on campus because of her."