Alumni
---
We rely on your generous contributions to enhance Center programs and services. We welcome your contribution in the form of time, energy, gifts in kind, and financial support. This places us in a special place of both privilege and responsibility, and we look to your thoughtful support to help us become a national model on how to do this work with discernment and respect to our deepest held values and beliefs.
For students, your generosity will mean continued support and expansion of the excellent programs being currently offered including travel assistance to LGBTQ conferences, need-based financial assistance, and growth in programming and presentations on campus.
For Georgetown, your generosity will mean development as a model in doing LGBTQ work in a faith context, drawing on its decades of understanding, commitment, and expertise on interfaith work.
For you, the donor, your generosity will make a difference in the lived experiences of LGBTQ Hoyas as we help make sure there are fewer roadblocks to their full and whole development.
How to Give
You may make a donation online here: http://giving.georgetown.edu/lgbtq-gift. If you would like to mail a check, you can send it to our secure University drop box:
LGBTQ Resource Center
Georgetown University
PO Box 0734
Washington, DC 20073-0734
Donors may choose to endow a particular program, or contribute to the general fund. If you would like to explore opportunities for an endowed and named award, scholarship, or other programs, please contact the Associate Director, Riley Jelenick.
See below and throughout the website all that the donations have made possible.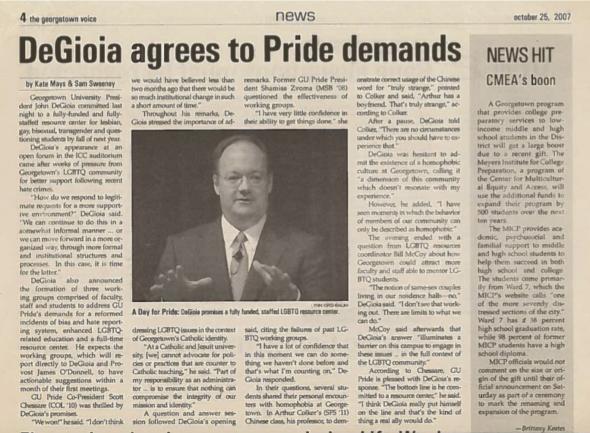 To acknowledge and record the work done by LGBTQ students from the 1970s to the founding of the LGBTQ Resource Center, the Center has created a blog, "LGBTQ Histories at Georgetown." Visit the blog to access a timeline of events, archives, and interviews with a group of staff, faculty, and alumni who had been present and involved on campus during the lawsuit or during the Out for Change campaign.
2017 10th Anniversary of the Out for the Change Campaign
The LGBTQ Center is thankful for all of those who joined us to observe the 10th Anniversary of the Out for Change Campaign in collaboration with our students, faculty, and partners from across campus, who were part of this historic campaign from the Fall of 2007.
Learn more about the Out for Change Campaign and watch clips from the 10th anniversary event in September 2017: lgbtq.georgetown.edu/10thanniversary.
2018 Recognition of Paul and Chan Tagliabue
At the 10th annual Lavender Graduation, we were honored to present Paul and Chan Tagliabue with an award in gratitude for their commitment to LGBTQ and Ally communities and their vision that allows us to "dwell in possibility."
Journeys: Understanding Self & Building Community is an annual LGBTQ Resource Center Retreat made possible by the Tagliabue Initiative and the generous contributions of individual alumni donors. Each year, we take 24 students for an overnight experience hosted at the Calcagnini Contemplative Center in Bluemont, VA. The purpose of this retreat is to provide a space for members of the LGBTQ community and its allies at Georgetown to gather in order to share personal stories, to reflect on individual and community formation, and enter into thoughtful dialogue regarding the nature of the many communities that comprise the broader LGBTQA community at Georgetown.
We are pleased to announce that the LGBTQ Resource Center, through a generous alum donor, will be sponsoring two students who will work an unpaid internship dedicated to serving the LGBTQ Community and advancing issues pertinent to the community as part of the Georgetown Summer Fellows Program in partnership with the Georgetown Scholarship Program and GUSA.
On the threshold of passage from a community on the Hilltop to the world outside, there lies a large space. Passages is a new program for graduating LGBTQ and Ally Juniors and Seniors, working together with recent Georgetown alumni to come together and have conversations about life, living, and all that it entails; to reflect on needs, wants, hopes, and dreams. It is a chance to talk with someone about daily life beyond the Hilltop: housing, finding friends and community, navigating the work place, negotiating family relationships, living healthy —all from someone who has gone through it just a few years before!
Once a month, 6 seniors will be given the opportunity to have dinner with a recent Georgetown alum to talk through concerns they have about life after graduation. The spots will be filled on a first-come, first-serve basis and are open to any senior who wishes to participate.
Alumni Brochure