IgnatianQ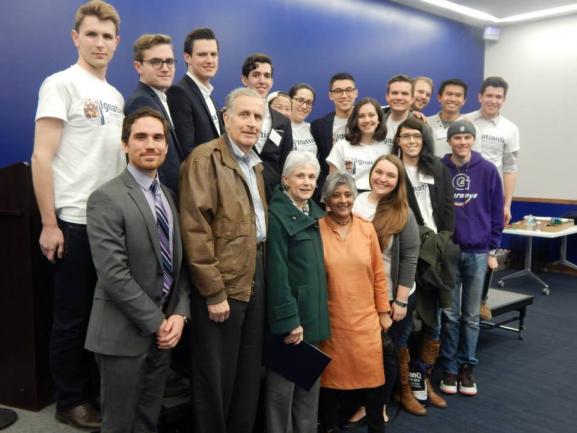 IgnatianQ: The Ignatian LGBTQ & Ally Conference is a student-led conference that focuses on the intersections of faith, sexuality, and social justice in a Jesuit campus context. IgnatianQ hopes to educate the whole person by creating safe spaces for dialogue, reconciliation, understanding, growth, and community building. The conference provides students with the opportunity to build their support network with students at Jesuit institutions all over thecountry as they continue LGBTQ work at their respective schools.
After its inaugural year at Fordham University in 2014, Georgetown University won a bid to host the conference in 2015. 2015's conference theme, "Forming Contemplative Communities to Ignite Action," highlighted the intersections and interrelatedness of all our diversities, and where we might be proceeding as LGBTQ students and allies. Georgetown University has one of the longest and most public histories of engaging LGBTQ issues within a Jesuit context, and the conference hopes to showcase some of this, while also drawing on our rich intellectual and interfaith traditions. The conference organizers brought an expanded approach to the conference beyond the intersection of sexuality and religion to include families, race, performance, sexual assault and violence, class, and education into the conversation.
Ignatian Q 2015: Forming Contemplative Communities to Ignite Action, was planned by GU Pride, The LGBTQ Resource Center & The Tagliabue Initiative for LGBTQ Life.
Check back for more information about the Ignatian Q 2017 Conference!
---
Keynotes
Father Kevin O'Brien, S.J.
Father Kevin O'Brien, Georgetown College Class of 1988, returned to the Hilltop in 2008 to serve as Executive Director of Campus Ministry. Appointed Vice President for Mission and Ministry in 2011, Father O'Brien teaches "The Church in the 21st Century" to undergraduates, leads "The Ignatian Tradition Seminar" for faculty and executive staff, and serves as a Jesuit0in0Residence to sophomores and juniors in Copley Hall. His book, The Ignatian Adventure: Experiencing the Spiritual Exercises of St. Ignatius in Daily Life, was published by Loyola Press in 2011.
Elizabeth Donnelly
Elizabeth A. Donnelly is a frequent speaker and writer on Catholic affairs. As a trustee of a Catholic family foundation, she is part of a group of female foundation leaders who have engaged in dialogue with top Vatican officials on the role of women in the Church. After graduating Georgetown University (SFS '78), she served on the staffs of Bread for the World and the Presidential Commission on World Hunger and as a Maryknoll Lay Missioner in Lima, Peru. She studied Christian social ethics at Harvard Divinity School (MTS '85), and did doctoral work in international political economy and ethics in Harvard's Department of Government, writing extensively on the Catholic Church's contribution to the movement for debt relief for heavily indebted poor countries.
Dan Cardinali
Georgetown and Fordham alumnus Dan Cardinali is president of Communities In Schools, Inc., the nation's largest dropout prevention organization, with operations in 26 states and the District of Columbia. He also currently serves as a trustee for America's Promise, a director on the board of Peace First, Independent Sector and Child Trends. In May 2011 Cardinali was appointed by President Barack Obama to the Presidential Advisory Commission on Educational Excellence for Hispanics. Trained as a community organizer in Guadalajara, Mexico, Cardinali served on a team organizing a "squatter" community of 120,000 to secure land rights, running water and public education.
Shiva Subbaraman
Shiva Subbaraman was the first Director of the Georgetown University LGBTQ Resource Center, the first institutionally funded LGBTQ Center in a Jesuit university in the country. Under her leadership, the Center offered a wide range of programs including OUTober, an overnight retreat program, Journeys; and a signature Lavender Graduation celebration. She serves on several campus wide committees including the Disability Working Group, Safety Net, Bias Reporting, Sexual Assault Working Group, and the Diversity Committee. Prior to Georgetown, she worked at the University of Maryland in the LGBT Equity Center and the Office of Human Relations Programs (now Office of Diversity Education). She has also taught at Macalester College, Drake University, and University of Illinois, Champaign-Urbana. Her primary areas of research are feminist and queer literature and theories. 
---
In Partnership with:
The Office of the President
The Office of Mission and Ministry
The Office of the Provost
The Office of the Dean
The Corp Philanthropy
Georgetown Interhall Council
Georgetown Program Board
GU Student Association
The Women's Center
The Biondi Copeland Family Fund
---
IgnatianQ 2015 Hosted 150 Guests from 13 Universities:
Boston College
Creighton University
Loyola University of Maryland
Santa Clara University
Villanova University
Canisius College
Fordham University
Marquette University
Seattle University
College of the Holy Cross
Loyola Marymount University
Saint Louis University
University of Scranton