About Us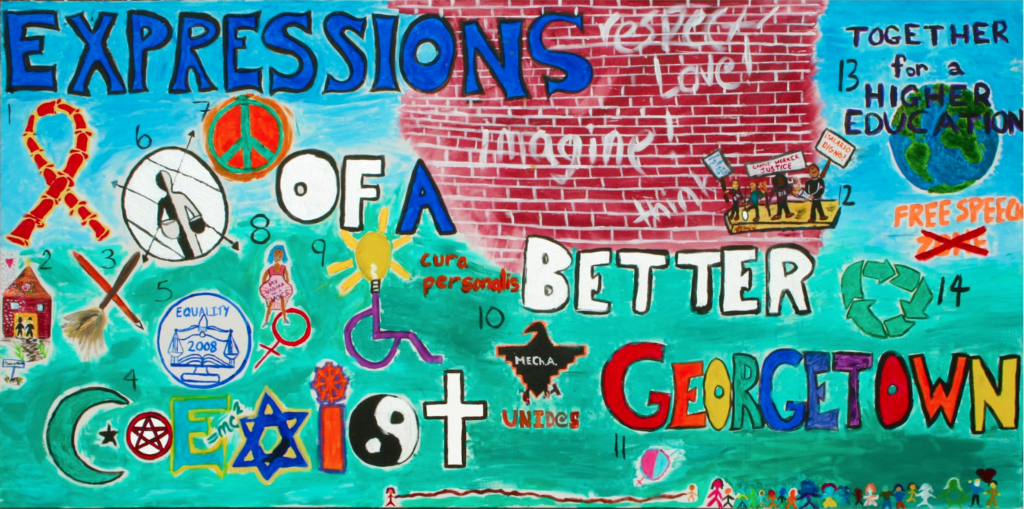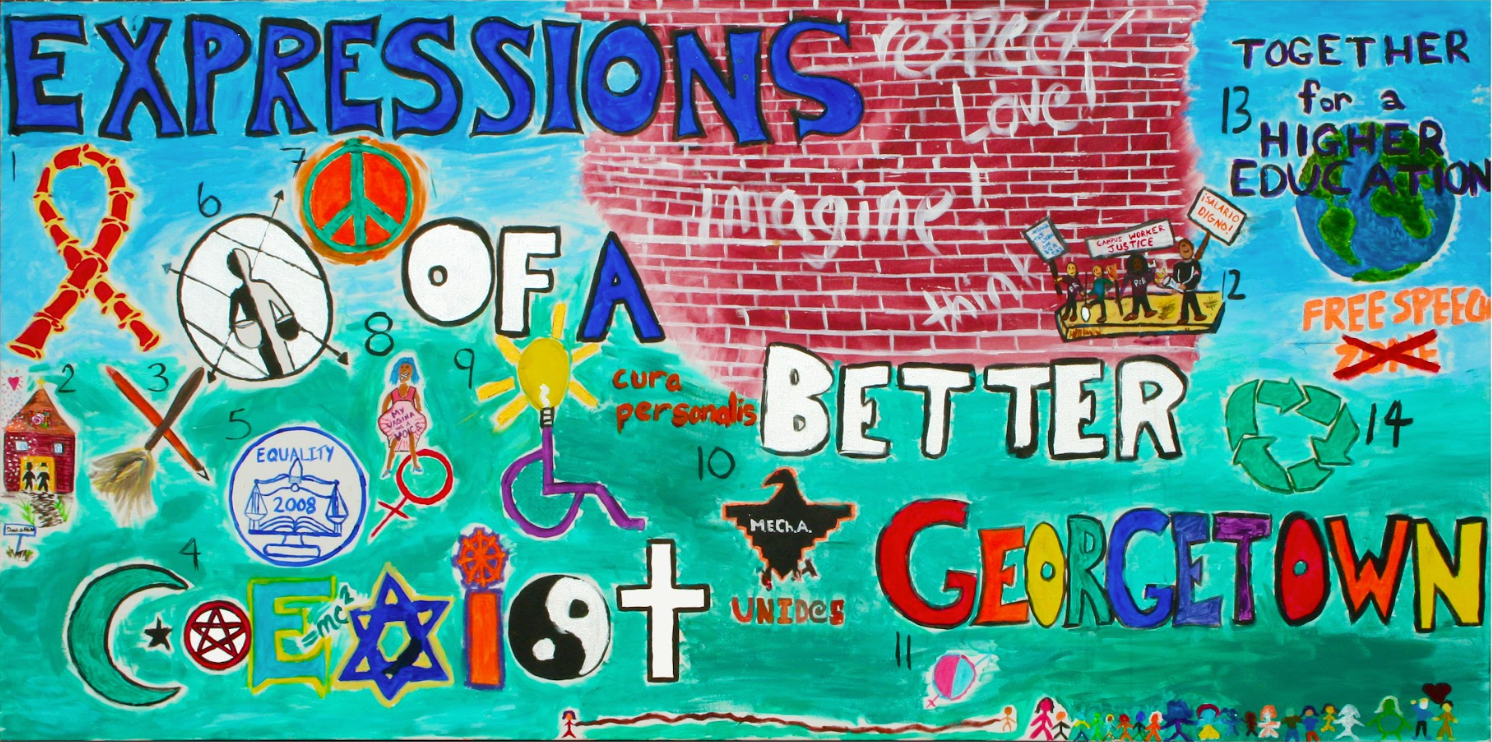 The LGBTQ Resource Center, serving lesbian, gay, bisexual, transgender, queer, and questioning individuals, is the first such Center of its kind at a Catholic/Jesuit institution in the country. We have sought to build on the rich interfaith and intellectual engagements of Georgetown to create a Center that will speak to all of us in all of our rich diversity. Our work focuses on seven key areas:
Community Building: We are stronger when we come together. We seek to not only gather people together, but to build strong relationships marked by justice. Together, we can influence culture on the Hilltop.
Education & Outreach: We provide trainings and workshops for faculty, staff, and students. We are happy to partner with your organization to help you think through how gender functions in your organization. We offer programs and events in collaboration with student groups, academic units, and other campus partnersHealth and Wellness
Support in navigating academic and student life: Staff are available to talk with students about anything and everything. We can connect you with resources, or help you think through topics like what you want to major in, how things are going with your roommates, whether you want to study abroad, how to navigate conflict with a friend, and all of the other things that come with student life.
Student Engagement and Leadership Development: We offer programs that help students cultivate and develop their leadership skills and unique strengths. These include lectures, discussions, and retreats. Our student staff are ambassadors of the LGBTQ Center. They lead their peers in conversation and events.
Health and Wellness: We work individually with students to help students address challenges and flourish at Georgetown. As a semi-confidential Title IX reporting space, we also help students in crisis situations. A semi-confidential space means that non-identifying information about an incident of sexual assault will be shared with a Title IX Coordinator; you will not be contacted by a Title IX Coordinator. Additionally, we are here to help you navigate the University Bias Reporting system for incidents inside and outside of the classroom. We can connect you with resources on and off-campus.
Advocacy and Empowerment: We challenge oppressive ideologies and encourage a holistic approach to community building and education.
Alumni Engagement: We cultivate a community of Hoyas supporting Hoyas. In the LGBTQ Center, we can connect you with alumni in roles of professional networking and mentoring.
LGBTQ Resource Center Mission
The Lesbian, Gay, Bisexual, Transgender, Queer, and Questioning (LGBTQ) Resource Center provides education, programming, support services, and voice to Georgetown students, faculty, staff, and alumni of all sexual orientations and gender identities. We are committed to understanding sexual orientation and gender identity in the context of and as it intersects with race, religion, ethnicity, nationality, ability, socio-economic status, and culture. The Center works toward a holistic understanding of LGBTQ communities; it takes leadership in providing and supporting a broad array of services, programs and resources to the campus community. Inspired by the Catholic and Jesuit principles of respect for the dignity of all, cura personalis, equality, and education of the whole person, the Center seeks to establish a safe, inclusive and welcoming environment for LGBTQ community members and promote better understanding and integration with the entire campus community.
Our Jesuit Values
We envision the work of the Center in the context of our understanding of Jesuit values and principles, and believe that the Center's work is most understood in the context of the best and the highest ideals of such principles particularly in institutions of higher education and learning. Guided by the University's Jesuit values of cura personalis, Academic Excellence, Educating the Whole Person, Faith & Justice, People for Others, Interreligious Understanding, and Community in Diversity we work towards creating a space and community where all are welcome, celebrated, and given opportunities for full actualization of their potential.
We understand that "passion" without "compassion" is misplaced, and "compassion" without "passion" is mere pity. We seek to appreciate the inherent mysteries and paradox of our common human condition, and find ways to support all community members to achieve a full range of expression of their own humanity.
We offer below some sharings from our Jesuit leaders as we shape the work of the Center, and with the understanding that the conversation at the intersection of LGBTQ/Faith is one of the most important, crucial, and thoughtful we can undertake.
A Letter from Campus Ministry
As the nation's oldest Catholic and Jesuit university, Georgetown has a long tradition of nurturing the intellectual and spiritual life of students. In the Jesuit tradition of cura personalis, we are committed to caring for the whole person – mind, body, and spirit. Along with faculty and other colleagues at the University, we strive to help our students integrate learning, faith, and service so that they become the persons God calls them to be. Respect and reverence for the dignity and worth of each person are at the very core of Georgetown's identity as a Catholic and Jesuit university.
From its beginning over two centuries ago, Georgetown has welcomed students of diverse faith traditions. Campus Ministry supports Roman Catholic, Protestant, Jewish, Muslim and Orthodox Christian chaplaincies. In residence halls, worship spaces, classrooms, and Campus Ministry offices, we create safe, welcoming environments where people can bring questions and even struggles about faith and meaning. In such encounters, we treat all persons with compassion and sensitivity.
Campus Ministry is pleased to collaborate with the LGBTQ Resource Center to learn from and support Georgetown's LGBTQ community. The Center helps us understand the issues, struggles, concerns, and hopes of the LGBTQ community so that we can better minister to those seeking our care. We join the Center in caring for students in times of need and in exploring faith in light of sexual orientation. In meaningful dialog, we both listen to the experience of each person and share the wisdom of our religious traditions. We provide opportunities for members of the University community to reflect theologically on sexuality and other life issues. As students form their consciences and discern important decisions, we accompany them as faithful mentors and teachers.
In so doing, we help each person grow in faith, hope, and love, which ultimately defines who we are as a Jesuit and Catholic university.
Rev. Kevin O'Brien, S.J.
Executive Director of Campus Ministry
Georgetown University