Lavender Graduation 2019 Keynote & Program
Thursday, April 25, 2019
Great Room, Healey Family Student Center
Ceremony: 5:00pm – 7:00pm
Reception: 7:00pm – 9:00pm
Lavender Graduation is a special ceremony for LGBTQ and Ally undergraduate and graduate students to acknowledge their achievements, contributions, and unique experiences at Georgetown University. This is an opportunity to celebrate the graduating students and bring the community together, along with our distinguished guests, to share in our history and progress.
Please email lavendergraduation@georgetown.edu with any questions.
2019 Keynote: Dr. Joshua Javier Guzmán (SFS '10)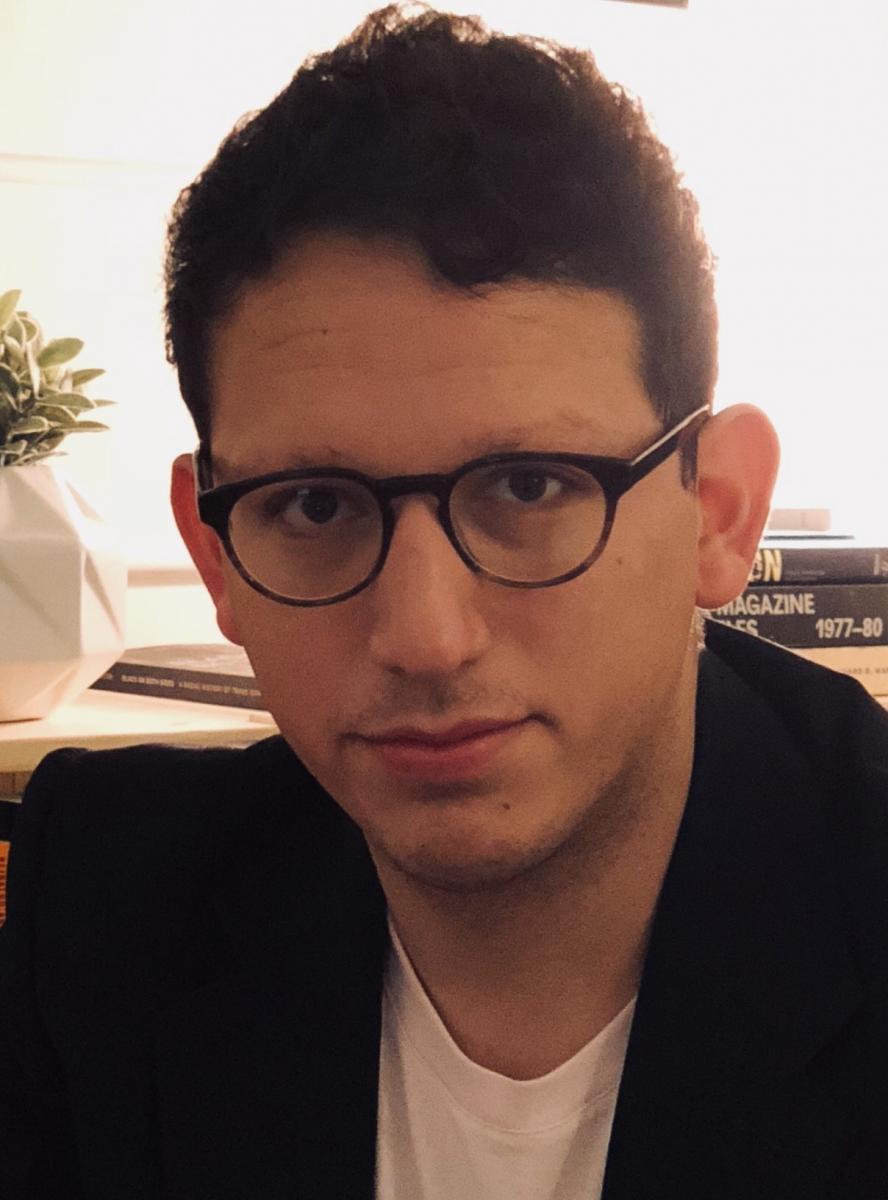 Dr. Joshua Javier Guzmán (SFS '10) is an Assistant Professor in the Department of Gender Studies at UCLA where he teaches courses on queer studies, feminist theory, Latinx cultural studies, and aesthetics. He received his Master's (2011) and his Ph.D. (2015) in Performance Studies at New York University. He was a University of California's President's Fellow at UC Berkeley and a postdoc at University of Colorado, Boulder, where he also served as an Assistant Professor of English for a year.
While at Georgetown, Dr. Guzmán (SFS '10) was a Community Scholar, an active student leader with MEChA, part of the Student Activities Commission, and very involved with sexual assault awareness work including the Are You Ready program. He also completed a two-year internship with Congressman Lloyd Doggett.
Dr. Guzmán co-edited a special issue of Women & Performance: a journal of feminist theory entitled "Lingering in Latinidad: Aesthetics, Theory, and Performance in Latina/o Studies." Other works include "Between Action and Abstraction" in Axis Mundo: Queer Networks in Chicano L.A. which focused on the use of abstraction by artist and activist in response to the HIV/AIDS crisis and "Latino, the Word" in Latinx Lives. Guzmán is currently working on a book-length project tentatively titled Suspended Satisfactions: Queer Latino Performance and the Politics of Style, which examines stylized modes of Latina/o dissatisfaction with the US nation-state as well as the activism that emerges in response to systemic state violence in a very contentious post-1968 Los Angeles.
More about Dr. Joshua Javier Guzmán:
2019 Invocation: Rev. Joseph Graumann, Jr. (SFS '11)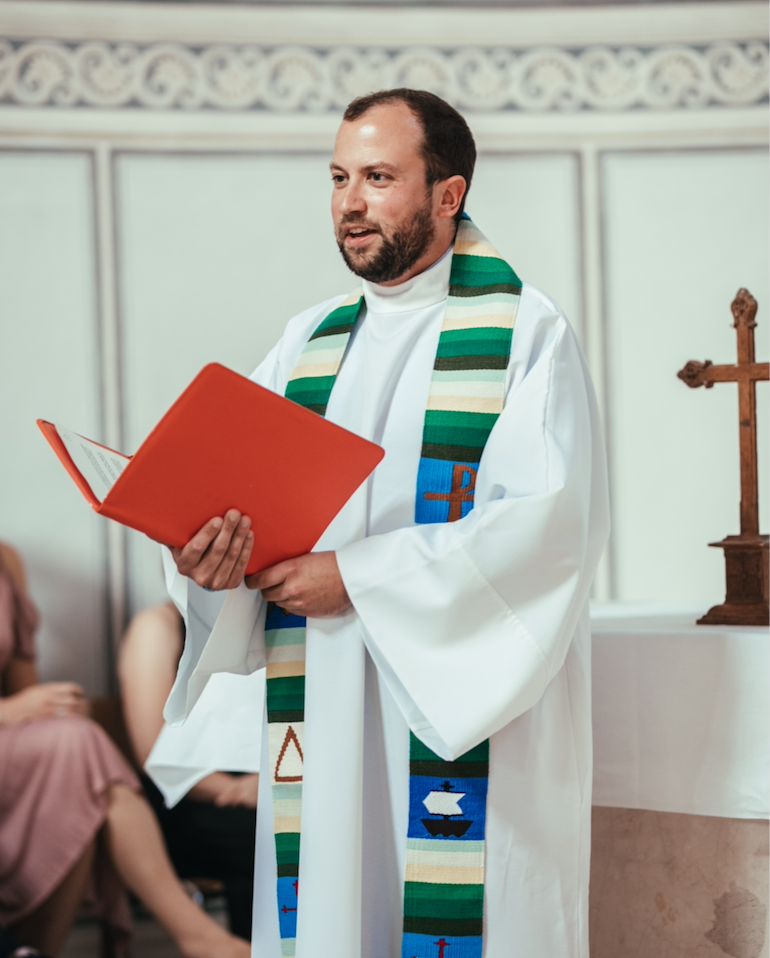 Rev. Joseph Graumann, Jr. (SFS '11) is currently the pastor of Saint Stephen Lutheran Church in Marlborough, Massachusetts. Graumann was planning on attending law school after his graduation from Georgetown, but a bone cancer diagnosis and subsequent treatment gave him the time to discern a call to seminary. At Gettysburg Seminary (Honors in Theology '16), Graumann's sense of calling grew. He served his internship with the Lutheran Church in Great Britain and the International Lutheran Student Centre in London. He was a two-term president of the student association and led a student movement to become a "Reconciling in Christ" seminary, welcoming people of all genders and sexualities.
While at Georgetown, Graumann worked at the LGBTQ Resource Center, was co-president of GUPride, co-founded and facilitated the peer discussion group on bisexuality, and was an active member of the Justice and Diversity in Action LLC.
Graumann enjoys his authentic, fun-loving, and queer-affirming community. He also sits on the board of Calumet, a Lutheran summer camp and retreat center in New Hampshire and participates regularly in the New England Lutheran-Roman Catholic dialogue group.
Links to Registration & Guest RSVP


2019 Lavender Graduation Program
Invocation
Rev. Joseph Graumann, Jr. (SFS '11)
Pastor, Saint Stephen Lutheran Memorial
Marlborough, Massachusetts
Welcome
Dr. Joel Hellman
Dean, Edmund A. Walsh School of Foreign Service
Remarks on 11th Annual Lavender Graduation
Dr. John J. DeGioia (Col '79, Grad '95)
President, Georgetown University
Introduction of Keynote Speaker
Prof. Elizabeth Velez
Academic Director, Community Scholars Program & Professorial Lecturer
Keynote
Dr. Joshua Javier Guzmán (SFS '10)
Assistant Professor of Gender Studies
University of California, Los Angeles: M.A. (2011), PhD (2015)
A Reflection on Our Time at Georgetown
Presentation of Awards
Recognition of Graduates
LeNaya Hezel, Director, Veterans Office
Professor Ricardo Ortiz, Chair, Department of English
Closing Ceremony
2019 Celebration Partners

Office of the President
Office of the Provost
Office of Mission & Ministry
School of Medicine
Georgetown University Law Center
Graduate School of Arts & Sciences
School of Continuing Studies
Division of Student Affairs