2018 "Edges that Blur": Student Activism and Institutional Response
Celebrating 10 Years of the LGBTQ Resource Center: 2008-2018
The founding of the LGBTQ Resource Center, like many other Centers before and since, was partly an institutional response to a specific, student-led Out for Change Campagin in the Fall of 2007 that held the University accountable for hate crimes on campus. That is the easy narrative. The more complex story is how, at various "moments" in institutional memory and history, there emerges a time when student demands supported by key institutional actors lead to large changes and reforms. Student activism has had a long history in American higher education from its very earliest days and has helped shaped and inform our understanding of "education" in the US context.
The simple story is of "demand" and "resistance." The more layered one is of the complex dance of demand, collaboration, co-optation, discernment, and transformation. Institutions are not abstract, but made of the very constituents it seems both to embody and to resist. 
"Edges that Blur" Speaker Bios
Dr. Dan Porterfield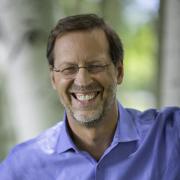 Dr. Daniel R. Porterfield, Ph.D. (COL '83) is the current President and CEO of the Aspen Institute, a leading educational and policy studies organization based in Washington, DC geared towards fostering leadership based on enduring values and providing a nonpartisan venue for dealing with critical issues. Prior to this position, Porterfield served for seven years as the president of Franklin & Marshall College (F&M), where he led F&M in the development of the Next Generation Initiative talent strategy. The Next Generation Initiative has helped to galvanize the creation of a national project of the Aspen Institute's College Excellence Program, the American Talent Initiative (ATI). Funded by Bloomberg Philanthropies, the ATI has a national goal of enrolling 50,000 more high-achieving low-income students in leading institutions by 2025.
Prior to his appointment at F&M, Porterfield served as Senior Vice President for Strategic Development for his alma mater, Georgetown University. In this role, he led Georgetown's institutional positioning, strategy formation, communications, government relations, community relations, and intercollegiate athletics, and spearheaded the University's relationship with the DC Public Schools and founded a number of Georgetown programs for immigrant children, DC students, and at-risk youth. Porterfield served in this position during the Out for Change Campaign in 2007 and was instrumental in the development of the Working Groups on LGBTQ issues at Georgetown and the founding of the LGBTQ Resource Center in 2008.
He earned B.A. degrees from Georgetown and Oxford-where he was a Rhodes Scholar-and a Ph.D. from The City University of New York Graduate Center, where he was awarded a Mellon Fellowship in the Humanities.
A native of Baltimore, Dan and his wife, attorney Karen A. Herrling, have three children
Dr. Marcia Chatelain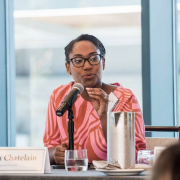 Dr. Marcia Chatelain is a Provost's Distinguised Associate Professor of History and African American Studies at Georgetown University. The author of South Side Girls: Growing up in the Great Migration (Duke University Press, 2015), Chatelain is a public voice on the history of African American children, race in America, as well as social movements. In 2014, Chatelain organized her fellow scholars in a social media response to the crisis in Ferguson, Missouri, entitled #FergusonSyllabus. #FergusonSyllabus has led to similar initiatives online and has shpaed curricular projects in K-12 settings, as well as academia. A frequent public speaker and consultant to educational institutions, Chatelain delivers lectures and workshops on inclusive teaching, social movements, and food justice. Chatelain has contributed to TheAtlantic.com, Times.com, Ms. Magazine, and The Chronicle of Higher Education, and she has also been quoted in articles in the New York Times, the Chicago Tribune, the Washington Post, and The Chronicle of Higher Education; she has appeared on local television and national outlets including C-Span, MSNBC, CNN, BBC-America, and PBS. Chatelain hosts, "Office Hours: A Podcast," in which she talks to millenials about what is most important to them.
Chatelain is a proud graduate of the University of Missouri-Columbia, where she was a Harry S. Truman Scholar, and she holds a Ph.D. in American Civilization from Brown University. In 2016, Chatelain was named a "Top Influencer in Higher Education," by The Chronicle of Higher Education. She is currently the Eric and Wendy Schmidt Fellow at the New America Foundation in Washington, D.C. During the 2017-2018 academic year, Chatelain was on leave from Georgetown as a National Endowment for the Humanities Fellow.
"Edges that Blur" Program
The Interstices of Student Activism & Institutional Response
Celebrating 10 Years of the LGBTQ Resource Center: 2008-2018
Welcome Remarks
Charles DeSantis Associate
Associate Vice President & Chief Benefits Officer
Remarks on the 10th Anniversary
President John. J. DeGioia (Ph.D., COL '79, GRAD '95)
Framing the Conversation
Shiva Subbaraman
Special Assistant to the VP of Student Affairs & Director of the LGBTQ Resource Center
Conversation
Dr. Dan Porterfield (COL '83)
President & CEO, The Aspen Institute
Dr. Marcia Chatelain
Provost's Distinguished Professor of History & African American Studies, Georgetown University
Closing Reflection
Angela Maske (NHS '19)
Question and Answer
Reception
Herman Room
---