Lavender Graduation 2017
Thursday, April 27, 2017
Great Room, Healey Family Student Center
Ceremony: 5:15pm – 7:00pm
Reception: 7:00pm – 9:00pm
Lavender Graduation is a special ceremony for LGBTQ and Ally undergraduate and graduate students to acknowledge their achievements, contributions, and unique experiences at Georgetown University. This is an opportunity to celebrate the graduating students and bring the community together, along with our distinguished guests, to share in our history and progress.
2017 KEYNOTE SPEAKER: rev. michael A. zampelli, s.j.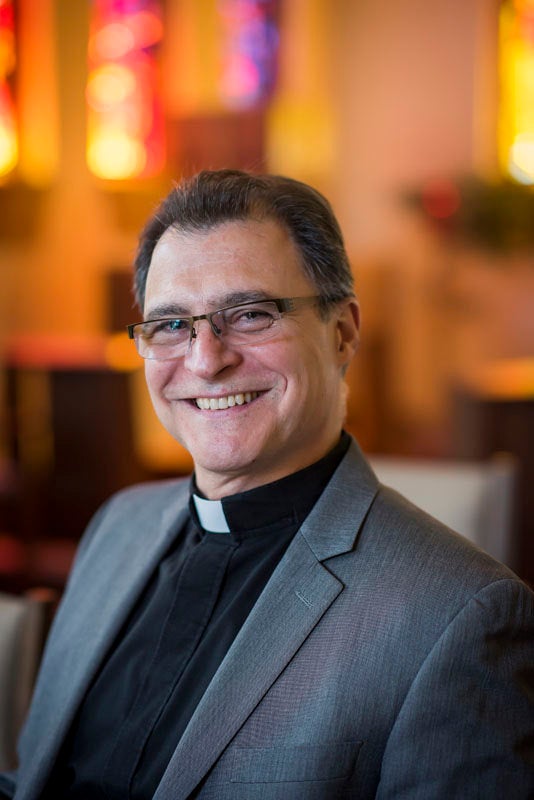 Rev. Michael A. Zampelli, S.J. (CAS '82) is the Paul L. Locatelli, SJ University Professor in the Department of Theatre and Dance at Santa Clara University where he has been on the faculty since 1998, and has also served as Rector from 2010-2015.
Rev. Zampelli is a compelling, passionate, and remarkable teacher and public speaker. He teaches classes in performance studies, gender and sexuality in performance, theatre history, and dramatic literature. He looks at the intersections and creative tensions of religious and spiritual lives in theatre, and has examined the dynamics of Jesuit performance histories. Via the lens of theatre and performance, Rev. Zampelli is able to stage some of the inherent contradictions and creative paradoxes of the lived lives and experiences of Jesuits.
His scholarly work has appeared in several journals and book volumes, including: From Rome to Eternity: Catholicism and the Arts in Italy; The Jesuits II: Cultures, Sciences, and the Arts; Contexts, Identities, Affinities, and Performances; Catholic Theatre and Drama: Critical Essays, A Companion to Hrotsvit of Gandersheim; and Music as Cultural Mission. His current research focuses on the retrieval of the Jesuit performance traditions in 19th and early 20th century America.
In conjunction with his teaching and research, Rev. Zampelli, a former Executive Producer of the Mask and Bauble Dramatic Society at Georgetown, also routinely directs plays. He is particularly interested in the process of retrieving historical performances for contemporary audiences. He has served as stage director, in national and international venues, for Jesuit-inspired performance pieces from the 17th and 18th centuries.
A former board member of the Catholic Association for Lesbian and Gay Ministry, Rev. Zampelli's pastoral work with LGBTQ Catholics has been extensive and exciting. He also maintains a very fulfilling ministry to incarcerated individuals in the Diocese of San Jose, California.
Rev. Zampelli graduated from Georgetown in 1982 with a BA in English, after which he entered the Society of Jesus. He received an MA in Humanities from Fordham University and an MDiv and STM from the Jesuit School of Theology at Berkeley.  Ordained a priest in 1993, he received a PhD in Drama from Tufts University.
For more information:
REGISTRATION for class of 2017
Graduating Seniors of the Class of 2017: Registration for Lavender Graduation 2017 is now closed. Please email lgbtq@georgetown.edu with any questions or concerns.
Faculty, Staff, Student, and Family guests please RSVP here.
2017 lavender graduation award winners
Commitment to the Campus Community
Caitlin Opperman
Beyond the Gates
Carlo Izzo
Bridge Builder
Luke Brown
Outstanding Champion to the LGBTQ Community
Ghenesis Mendez
Staff Commitment to the LGBTQ Community
Jennifer Wiggins
Faculty Commitment to the LGBTQ Community
You-me Park
Visit our archives to view previous Lavender Graduation Award winners.
2017 Lavender graduation program
Invocation
Brahmachari Vrajvihari Sharan
Director of Hindu Life
Georgetown University
Welcome
Dr. Jeanne Lord
Dean of Students & Associate VP of Student Affairs
Georgetown University
Remarks on 9th Annual Lavender Graduation
John J. DeGioia Ph.D., Col '79, Grad '95
President
Georgetown University
Introduction of Keynote Speaker
Rev. Greg Schenden, S.J.
Roman Catholic Chaplain
Georgetown University
Keynote
Rev. Michael A. Zampelli, S.J., CAS '82
Paul Locatelli Professor of Theatre and Performance Studies
Santa Clara University
Our Time at Georgetown: Senior Reflection
Presentation of Awards
Recognition of Graduates
Closing Ceremony
2017 CELEBRATION PARTNERS


Office of the President
Office of the Provost
Office of Mission & Ministry
School of Medicine
Georgetown University Law Center
School of Continuing Studies
Division of Student Affairs
LAVENDER GRADUATION 2017 VIDEOS
Welcome: Dr. Jeanne Lord
Remarks from President John J. DeGioia
Keynote Speech: Rev Michael A. Zampelli, S.J.
Senior Reflection: Luke Brown (COL '17)
Performance: Campus Ministry Choir
lavender graduation 2017 photos