OUTober 2015

OUTober 2015 // October 7st – November 20th
For the full poster, click here.
OCT 7: ARE YOU READY? 7-9 PM

Location: Copley Formal Lounge
Are Your Ready? Are You Ready? is a campus wide sponsored program to raise awareness about sexual assault and assist community members in helping friends and family members. The 13th annual Are You Ready? will take place on October 7, 2015! 
OCT 9: COMING OUT IN RED SQUARE, 12-2 PM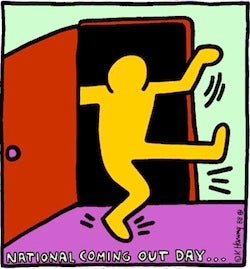 Location: Red Square
Come join GUPride's annual Coming Out Day. We are a better Georgetown today, but there are still challenges. This event will feature a door through which students "come out" as proud LGBTQ Hoyas and Allies. Be sure to pick up and wear your "I AM" t-shirt throughout the day to promote visibility and awareness. 
OCT 9: LGBTQ OPEN HOUSE: HOMECOMING, 3-5 PM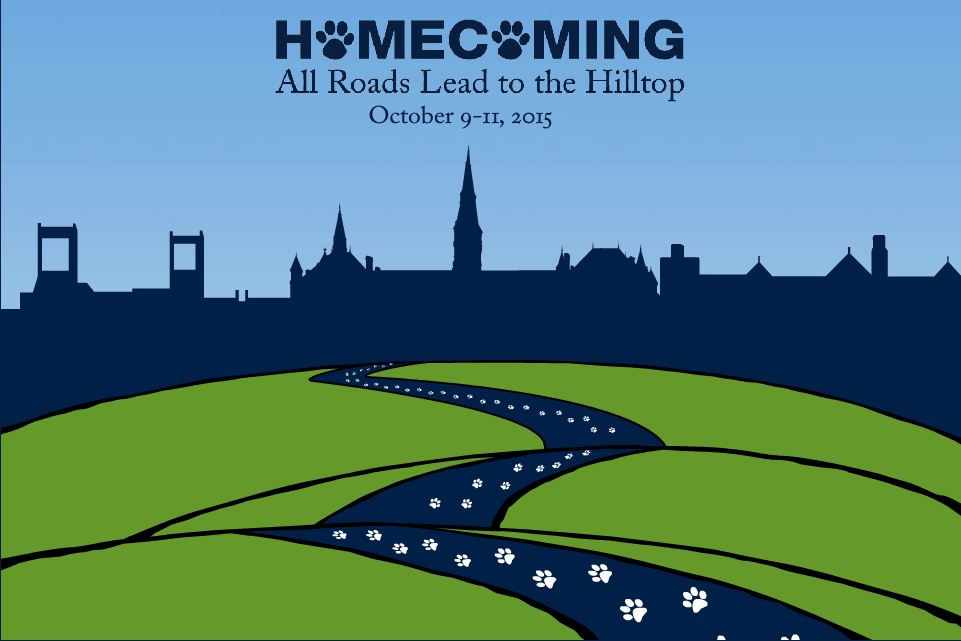 Location: LGBTQ Resource Center
Join the LGBTQ Resource Center in celebrating LGBTQ History Month with an open house during "OUTober." Connect with current students and alumni and learn about the wonderful work of the LGBTQ Resource Center.
OCT 14: ALL OUR FAMILIES, 6-7:30 PM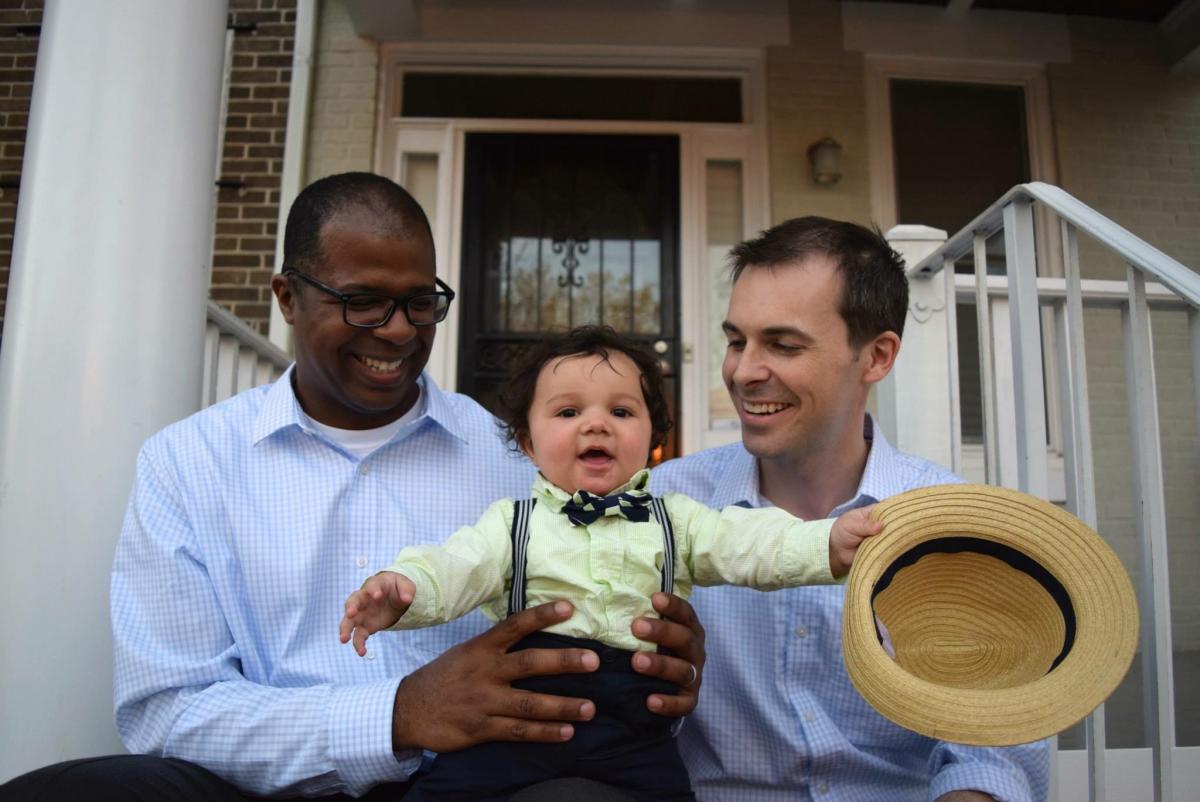 Location: Herman Room, HFSC
For the first time, more and more LGBTQ people are having families of our own, and there is growing research on the positive impacts of gay parenting on children. Join us for a thoughtful and lively conversation with LGBTQ-identified Hoya faculty, staff, and alum as they talk to us about the joys, challenges, and grace in being parents, and creating new understandings of family. 
Katie Boin has worked at Georgetown since 2009, and currently serves as the Director of Student Outreach and Support.  Having been together since 2000, Katie and her partner, Anne, celebrated marriage vows with a wedding in 2007 and were officially married in the District of Columbia when it became legal three years later.  Her partner gave birth to their son in 2013, and Katie is now expecting their second child, due in January.
Michelle Ohnona is a professor in the Women's and Gender Studies Program at Georgetown University where she teaches Sexuality Studies, Feminist Theory and a course on sexual diversity in the Arab World. Her research begins at the intersection of feminist, postcolonial, critical race and queer theory. In addition to her research and teaching, Michelle has worked in the non-profit sector on support and advocacy initiatives for queer youth.
Zaid A. Zaid is currently Special Assistant to the President and Associate Counsel to the President at the White House. Before joining the White House Counsel's Office, Zaid held positions at USAID, was in private practice at Wilmer, Cutler, Pickering, Hale and Dorr (WilmerHale) in Washington, D.C., and clerked for three federal judges.  Zaid graduated from Columbia Law School in 2007 as a Richard Paul Richman Fellow, where he was on the Editorial Board of the Columbia Law Review.  Zaid and Giles were married in 2014 and adopted their son, Xavi, later the same year.
OCT 17: OUTLAW* REUNION BRUNCH, 10:30-11:30 AM
Location: Hart Auditorium Lobby | Bernard P. McDonough Hall | Georgetown Law Center
*Outlaw, a vibrant and growing student organization at Georgetown Law, aims to promote LGBTQIA equality, provide opportunities to educate the Georgetown Law community on legal issues affecting LGBTQIA people, and create a welcoming social atmosphere for LGBTQIA students and their friends and allies at Georgetown Law.
Register here (new window)!
OCT 20: THE TIPPING POINT IN TRANS POP CULTURE: A CONVERSATION WITH ALI LIEBEGOTT, WRITER FOR THE EMMY AWARD WINNING SHOW TRANSPARENT, 7-8:30 PM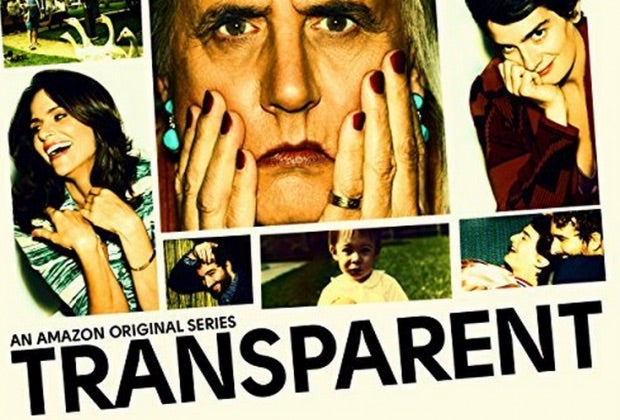 Location: Social Room, HFSC
A Conversation with Ali Liebegott (Writer for the Emmy Award Winning show Transparent) and Prof Marcia Chatelain  (Associate Professor, Georgetown University)
Join us for a dynamic evening with the screening of parts of the show Transparent (produced by Amazon Studios) followed by a conversation with Ali Liebegott, one of the writers for the show who also plays the character Tiffany in the show. The conversation will explore the presentation, representation, and continued challenges of being heard, seen, and understood for female and gender queer writers in television and media.
Ali Liebegott is an award-winning American author, poet, and teacher. She has taught creative writing at University of California, San Diego and Mills College. She currently lives in San Francisco. Liebegott is a recipient of a Poetry Fellowship from the New York Foundation for the Arts. As of 2013 she has written three books: The Beautifully Worthless; The IHOP Papers; and Cha-Ching.
Ali Liebergott on How I'm using my gig as a writer for 'Transparent' to make sure the T in LGBT isn't edited out of television (new window): From day one, I realized I had a unique responsibility as a queer, gender nonconforming writer working on a big television show. I owe it to my community. I hope that this show can not only give trans people positive visibility that will therefore make them safer in the bigger world, and more employable, and able to walk through the streets without the terror of violence. I want for trans people what I want for everyone: a fair living wage, health care, the absence of loneliness, freedom from addiction, a lemon tree in the front yard, and a TV show that they really love to watch.
Dr. Marcia Chatelain, previously on the faculty of the University of Oklahoma's Joe C. and Carole Kerr McClendon Honors College, researches a wide array of issues in African-American history. Dr. Chatelain writes and teaches about African-American migration, women's and girls' history, and race and food.
Watch the trailer for Transparent: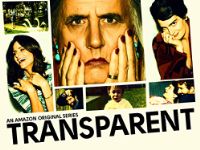 (new window)
OCT 21: KAREN NAKAMURA, YALE UNIVERSITY: REFRAMING OF TRANS AS DISABILITY IN CONTEMPORARY JAPAN, 6-7:30 PM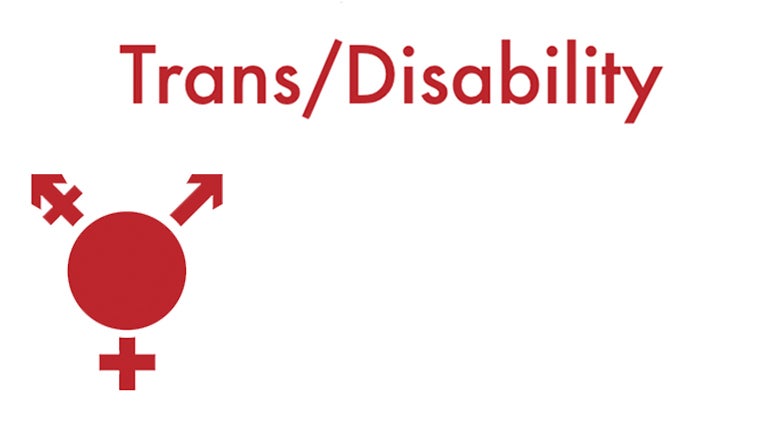 Location: Leavey Program Room
In contrast to the United States which has framed trans issues under the LGBT framework, trans activists (most notably FTM transmen) in Japan have been most successful in presenting themselves as a form of disability. They leveraged the translation of transsexuality as "Gender Identity Disability" (GID) which allowed a tremendous amount of rapid social and legal change over the past two decades. This lecture explores why GID was such a powerful concept, especially for the transmen who were its most ardent advocates.
Karen Nakamura is a cultural and visual anthropologist at Yale University, where she is Associate Professor of Anthropology and East Asian Studies, as well as the chair of LGBT Studies.  Her first book was titled Deaf in Japan: Signing and the Politics of Identity(2006). Her next project resulted in two ethnographic films and a monograph titled, A Disability of the Soul: An Ethnography of Schizophrenia and Mental Illness in Contemporary Japan (2014). She is currently working on the intersections of transsexuality and disability politics in postwar Japan.
OCT 24: WALK TO END HIV, 8 AM

Location: 37th & O Street (Front gates of campus)
Annual 5K fundraiser for Whitman Walker Health. In a city where 1 in 20 adults has HIV, and 1 in 4 don't know about it, this is particularly significant. A group will meet at the front gates at 8:00am to travel together to the 9:15 start.
OCT 27: FOOD & FRIENDS: LGBTQ PERSONS FOR OTHERS, 6-8 PM
Location: Meet at 37th and O Street (front gates of campus)
GUPride is partnering with local DC organizations to prepare meals for disadvantaged LGBTQ persons in DC. Reflections on the experience will follow the food preparation.  For information about the organization Food and Friends, visit their website at http://www.foodandfriends.org (new window)
OCT 30: PRIDE SHABBAT, 6:30-8:30 PM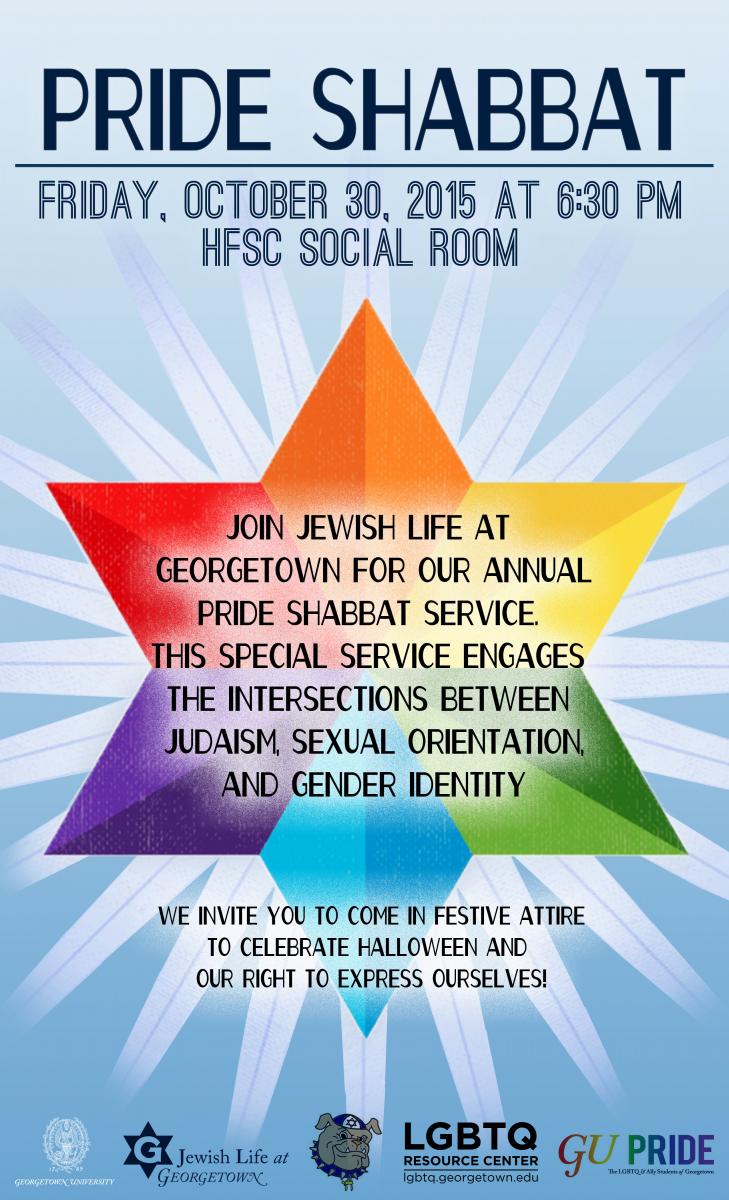 Location: Social Room, HFSC
Come join the Georgetown Jewish Chaplaincy for our annual Pride Shabbat. Pride Shabbat is a special service that revolves around the intersection of Judaism, sexual orientation, and gender identity. Engage in thoughtful discussion during the free dinner that follows services. We actively encourage you to come dressed in COSTUME, to celebrate Halloween, and our freedom to express ourselves!
NOV 6: #LOUDFORGU: QUEER OPEN MIC, 6:30-8:30 PM
Location: Herman Room, HFSC
As we move forward in OUTober we invite all members of the Georgetown LGBTQIA community to express themselves by sharing essays, poems, or other reflections in a safe and affirming space. Everyone is welcome to either share, or just sit for a study break.
NOV 10: TO WALK BETWEEN WORDS, QUEERING AMERICAN SIGN LANGUAGE, 6-7:30 PM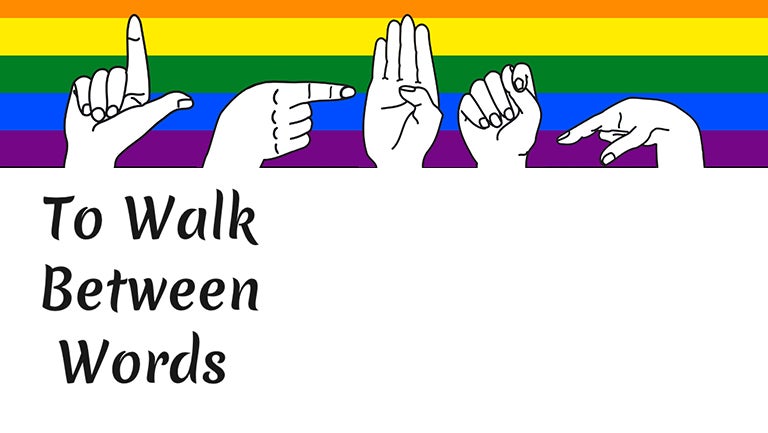 Location: McShain Large
How we understand ourselves is dependent on the language we have access to. LGBTQ identities are therefore formed in the context of words we use to talk about ourselves. This workshop invites leading LGBTQ scholars of American Sign Language (ASL) Tamar Nelson (Consider It Communications), and Cara Miller (Gallaudet University) to engage in an exploration of how Queer identities are understood within the context of Deaf Culture.
Tamar Nelson is a faculty member in the Sign Language Interpreter/Transliterator Program at Saint Paul College and is currently finishing her Ph.D. in Interpretation at Gallaudet University. Her research interests include LGBTQI interpreting students and consumers, interpreter ethics and responsibilities.
Dr. Cara A. Miller is the LGBTQA Resource Center Coordinator at Gallaudet University where she earned her doctoral degree in Clinical Psychology in 2011. Her academic and research interests include identity development, LGBTQ identity and related experiences, disability issues, grief and loss, and the human-animal bond.
NOV 12: CHARLES RADCLIFFE, UN HUMAN RIGHTS OFFICE: LGBT RIGHTS ARE HUMAN RIGHTS, 7:30-8:30 PM
Location: McShain Large 
Join GUPride and the United Nations Association of Georgetown in a discussion with Charles Radcliffe, head of the Global Issues Team at the UN Human Rights Office, and director of the UN Free & Equal campaign, on LGBT rights in the international arena, and the role of the UN in securing these rights at all levels across the globe. 
Charles Radcliffe heads the global issues team at the UN Human Rights Office in New York. He also serves as human rights adviser on sexual orientation and gender identity, and directs the global UN Free & Equal campaign against homophobia and transphobia. Prior to joining the United Nations in 2006, he helped establish and develop the International Crisis Group, a non-governmental organization committed to preventing and resolving deadly conflict.
Follow Charles on Twitter @charles_rad
NOV 14: INTRICATE IDENTITIES: DC LGBTQ STUDENT CONFERENCE, 12-7 PM

Location: American University
LGBTQ communities respond strongly to external opposition, but what about inequities within? Drawing on our Jesuit and Civil Rights understandings of social justice, this session will explore how class and privilege intersect our LGBTQ communities; and how we can develop effective strategies for combating these within ourselves and our communities.
Intricate Identities (new window), the annual DC LGBTQA Student Conference, aims to foster community and provide opportunities for professional networking for students. The mission of the conference is to create a community space for interactive education, group and personal reflection, and research exchange on leadership, activism, and issues of student interest as they relate to the topics of sexual orientation and gender identity/expression as well as diversity, inclusion, and liberation.
Register Today!
NOV 18: THE MASK YOU LIVE IN (SCREENING), 7-9PM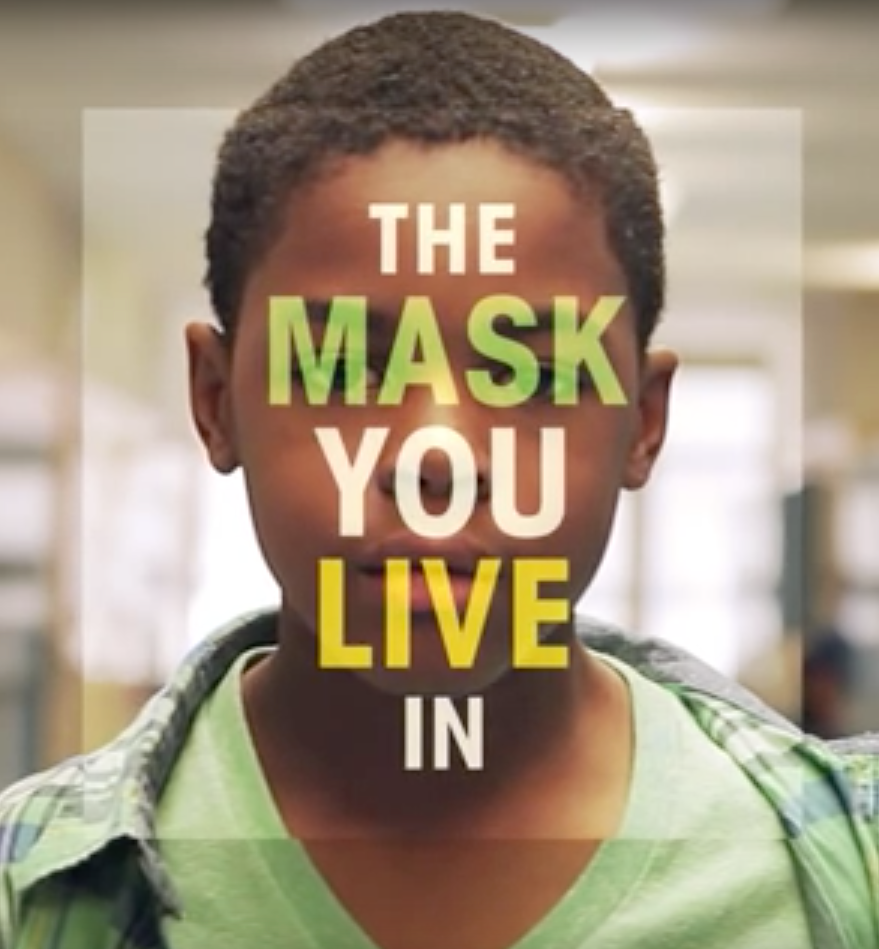 Location: Women's Center
The Mask You Live In follows boys and young men as they struggle to stay true to themselves while negotiating America's narrow definition of masculinity. 
Watch the trailer HERE (new window)
NOV 19: TRANS REMEMBRANCE, 6PM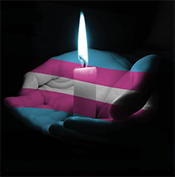 Location: Red Square
In Partnership With:
Office of the President
Office of the Provost
Campus Ministry
Alumni Association
Academic Resource Center
African American Studies Program
The Black House
The Center for Social Justice
CMEA
College Democrats
Department of Anthropology
Department of History
Department of Sociology
Department of Theology
Disability Studies Course Cluster Initiative
Food & Friends
Grad Pride
GU Pride
GUSA
Health Education Services
IDEAA
International Student Association
Latinx Leadership Forum
P-POUT
Department of Sociology
Solidarity Committee
Take Back the Night
Theatre & Performance Studies
United Nations Association
Women's & Gender Studies Program
Women's Center
OUTober 2015 Photos