OUTober 2021
Oct 13: Coming Out Day 5 PM Event by GU Pride
Location: Red Square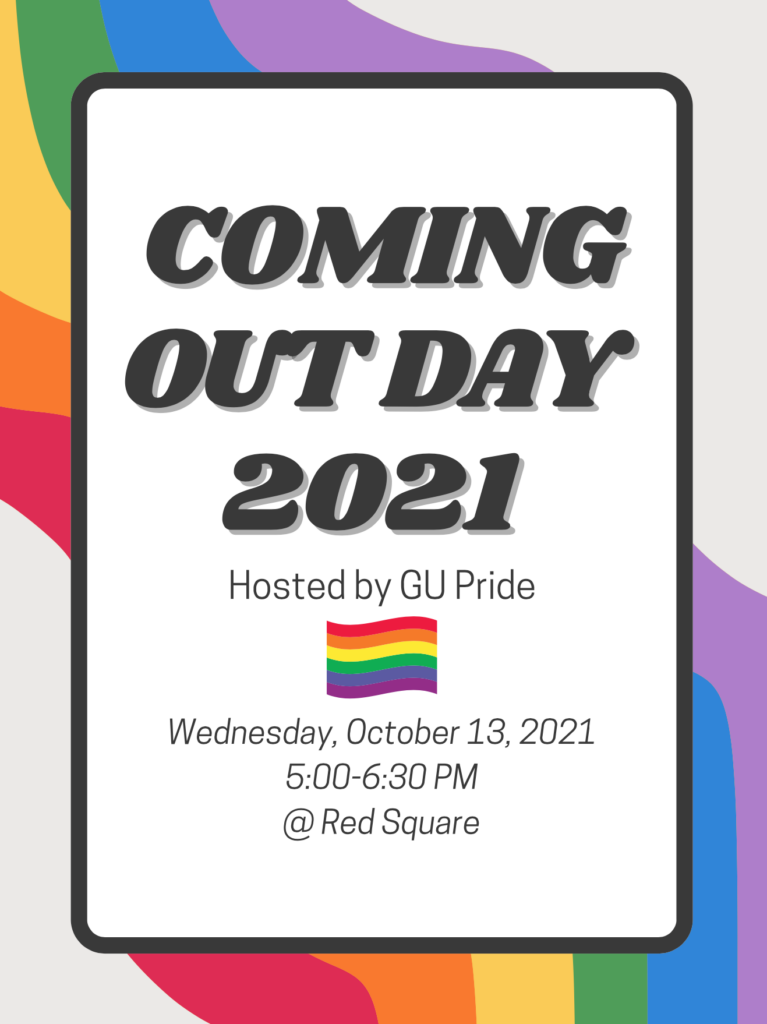 Celebrate Coming Out Day with GU Pride!
Continuing the annual tradition of partying our way through a closet door in Red Square and celebrating our identities!
Oct 14: Decolonize The Dance Floor 12 PM
RSVP: bit.ly/DecolonizeTheDancefloorGU (new window)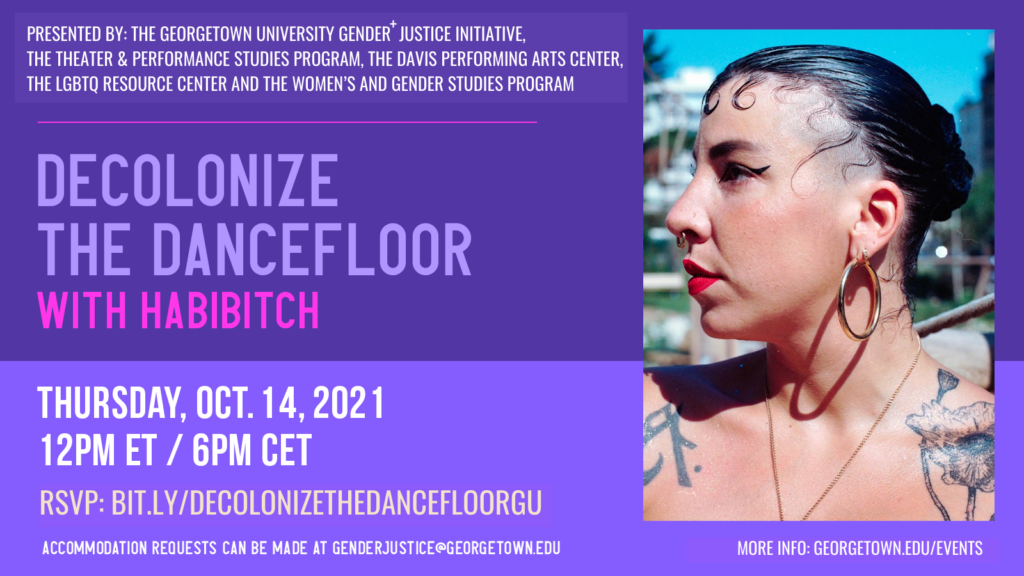 Presented by the Gender+ Justice Initiative, the Theater & Performance Studies Program, the Davis Performing Arts Center, the LGBTQ Resource Center and the Women's and Gender Studies Program
With "Decolonize the Dancefloor", artist and activist Habibitch explores the systems that shape our daily social relationships. Racism, privilege(s), domination(s), resistance, creation, community(ies), fundamental concepts are dissected under a sharp decolonial magnifying glass. Through politicizing their dance and dancing their politics, their work is remarkable and truly celebratory of Queer, nonbinary POC bodies.
This event is free and open to all
About the artist:
Habibitch is an Algerian-born Paris-based, non-binary, queer, femme, boss, dancer, choreographer and activist. They invest spaces from the Ballroom Scene to feminist and institutional stages to express themselves creatively and politically. They frequently comment on social and political debates related to race, gender, immigration, and marginalized groups in France and beyond. Their performances and analyses are always intersectional as they decolonize the dance-floor everywhere they go.
Accommodation requests can be made at genderjustice@georgetown.edu
Oct 19: LGBT Center Awareness Day livestream 1 PM
Location: White Gravenor 103 Office of Admissions
LGBT Center Awareness Day is a national day of action focused on awareness around the work community centers, including college and university resource centers.
In this webinar we will explore the history of LGBTQIA2S+ resource centers within colleges and universities, their unique impact current challenges, and how they support students and resource staff work towards a more inclusive equitable and just institution.
Oct 19: When the Rainbow isn't Enough 4 PM
Location: Leavey Esplanade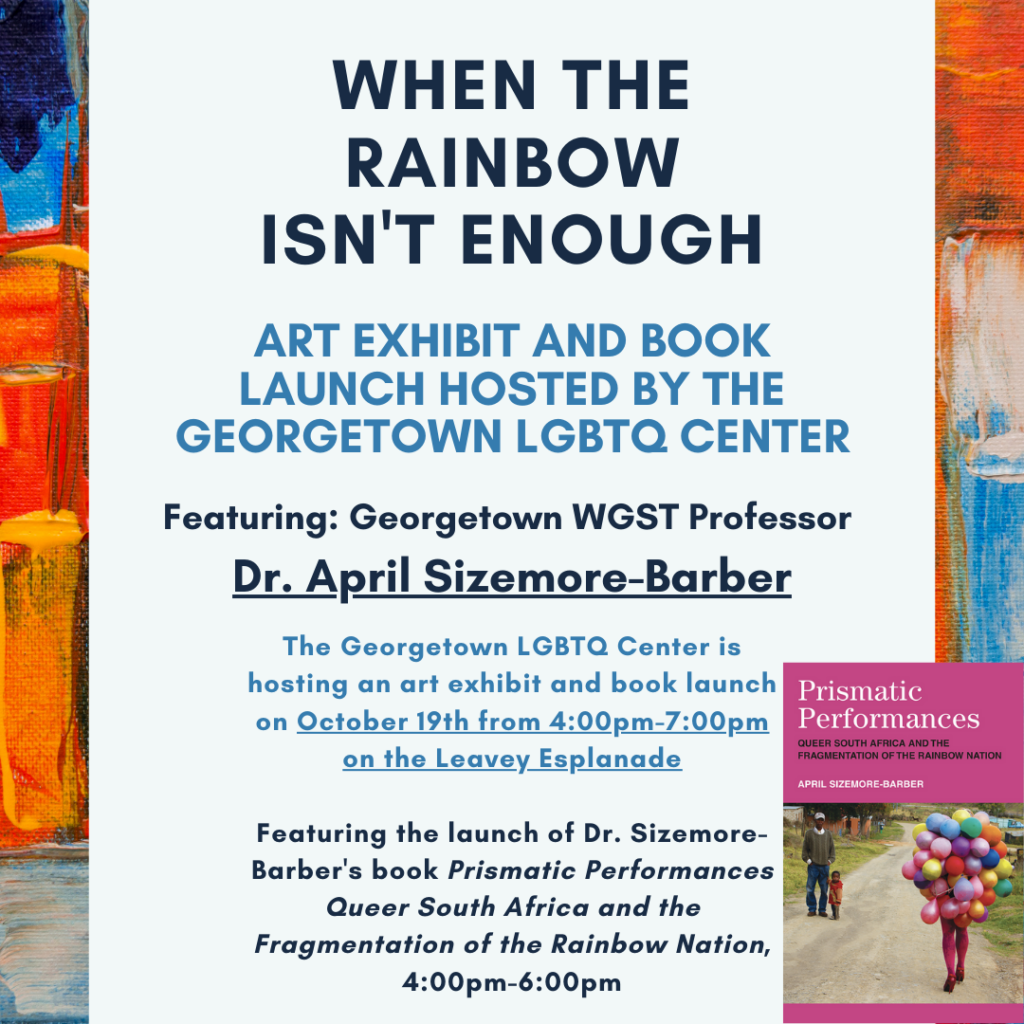 Join us for a conversation with Dr. April Sizemore-Barber about her new book. South Africa has the most inclusive policies for LGBTQ people in the world. However, gaps exist between South Africa's self-image and the lived realities of its LGBTQ citizens. We will Explore how queer South African artists are making connections across experiences of social justice and what we can learn from them in the United States.
Oct 20: International Pronouns Day

International Pronouns Day seeks to make asking, sharing, and respecting personal pronouns commonplace. Referring to people by the pronouns they determine for themselves is basic to human dignity. Being referred to by the wrong pronouns particularly affects transgender and gender nonconforming people. Together, we can transform society to celebrate people's multiple, intersecting identities.
Check out https://pronounsday.org/ for FAQs, resources, and information on how to participate in International Pronouns Day.
Oct 20: Let's Get The Ball Rolling: Ballroom Culture and QPOC History 7 PM Event by Haus of Hoya
Location: TBD
Wondering what "haus" in Haus of Hoya means? Think ballroom is just for Cinderella?
Get your questions answered about the haus and ballroom culture Wednesday at 7 PM
Get a Glimpse into Ballroom culture and QPOC history pus how we live out its legacy today!
Oct 22: Pride Shabbat 5:30 PM
Location: Dalhgren tent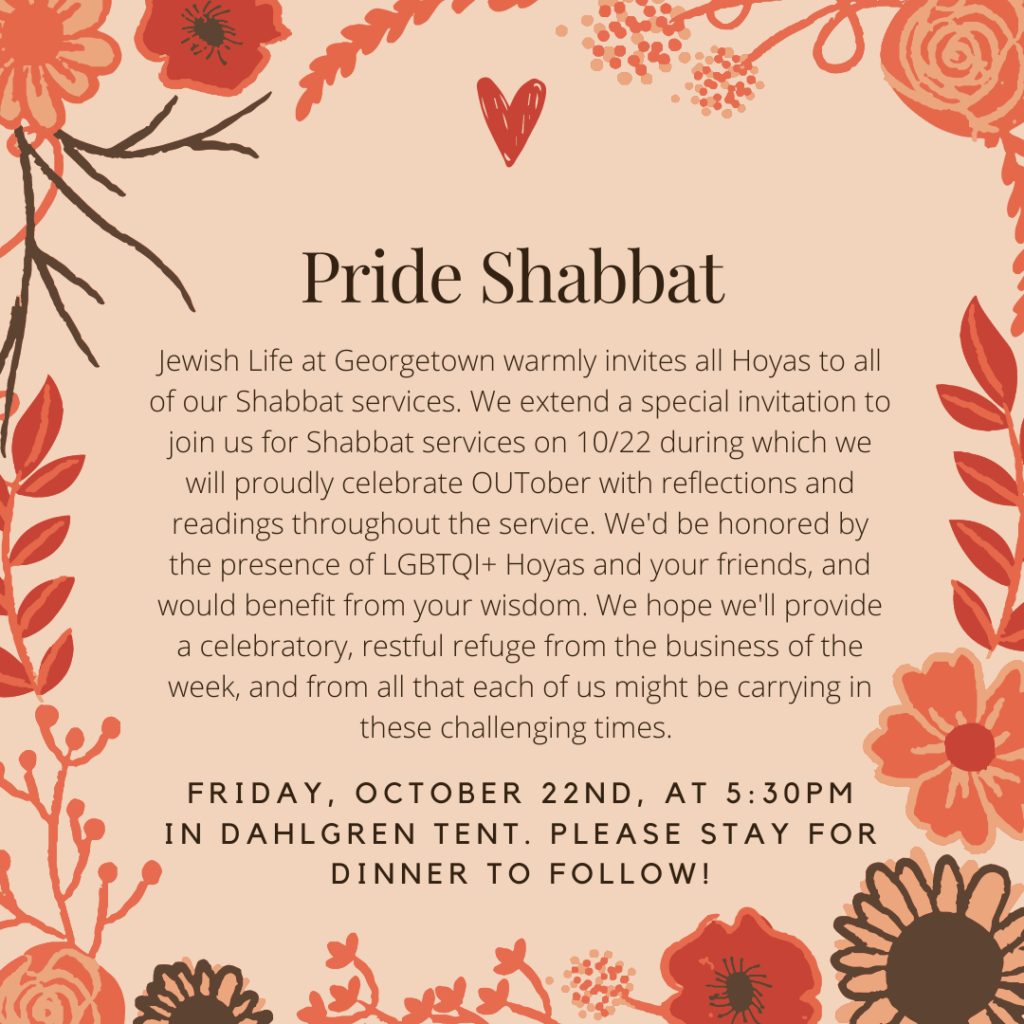 Jewish Life at Georgetown warmly invites all Hoyas to all of our Shabbat services.
We extend a special invitation to join us for Shabbat services on 10/22 during which we will proudly celebrate OUTober with reflections and readings throughout the service. We'd be honored by the presence of LGBTQI+ Hoyas and your friends, and would benefit from your wisdom. We hope we'll provide a celebratory, restful refuge from the business of the week, and from all that each of us might be carrying in these challenging times. Friday, 10/22 5:30 PM Dalhgren tent. Please stay for dinner to follow!
Oct 23: Something Out of a Nightmare Ball 8 PM Event by Haus of Hoya
Location: Leavey Esplanade
The dreadful Haus of Hoya cordially invites you to our bewitching ball! Frighten us with your most haunting looks. The nightmare begins when the Healy clock tower strikes 8 PM on the 23rd of October.
Presented By:
LGBTQ Resource Center
Tagliabue Initiative for LGBTQ Life
GU Pride
GU Queer People of Color (QPOC)
Haus of Hoya
In Partnership With:
Division of Student Affairs
Gender+ Justice Initiative
Office of the President
Office of the Provost
Office of Campus Ministry